Nairian Nourishing & Softening Night Serum Review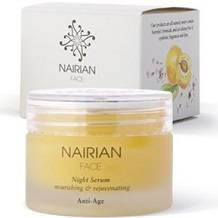 In this review, we will be discussing Nourishing & Softening Night Serum made by Nairian. This night serum aims to strengthen and restore your skin. It works by moisturizing and nourishing mature skin so that it returns to that rejuvenated and glowing state. It also incorporates anti-ageing ingredients that help to reduce the appearance of fine lines. If you need a little extra care when it comes to looking after your skin, then read the rest of this review below to find out if this product is a perfect fit for you.
Ingredients
Coconut Oil
Apricot Kernel Oil
Sunflower Seed Oil
Sweet Almond Nut Oil
Polyglycerol-3 Beeswax
Sea Buckthorn Seed Oil
Tocopherol
Apricot Fruit Extract
This product incorporates natural ingredients in order to reverse the signs of ageing. Coconut Oil is known for deeply moisturising the skin, leaving it silky smooth and supple. It also helps to restore dry, flaky skin and supports the formation of new keratin structures. Apricot Oil is known for its high quantities of Vitamin A and E which also moisturizes and renews old skin cells. Rosehip and Sea Buckthorn Oil has extensive anti-aging properties and helps to fill the skin, diminishing the appearance of fine lines and wrinkles.
Instructions
Unfortunately, there are no instructions given explaining how to apply this product on the manufacturer's website. Without this crucial information, customers may not experience the full benefits that this product offers. This night serum is also not available in an airtight pump bottle which can make the application process messy and bothersome.
Price
You can purchase this product directly from the manufacturer's website for $87.00 per jar. Each jar contains 30 ml of product. Currently, there are no further discounts available concerning this product. Compared to similar products online, this night serum is also fairly expensive especially seeing as there are no bulk discounts on offer.
Guarantee
This product comes with a 30-day guarantee policy in case you are unhappy with your results. Handling and shipping charges are not included if you are returning the product because you find the product unsatisfactory. If however, the product is faulty then the shipping and handling charges will be reimbursed. This guarantee does offer some peace of mind for new and old customers alike, but it is still not as competitive like many of the guarantee policies of other leading brands.
Conclusion of Our Nourishing & Softening Night Serum Review
This product offers a lot of natural ingredients that have shown to improve the overall complexion, tone and health of your skin. We also appreciate the fact that this product has a guarantee policy and that it is easily accessible online. However, compared to competing products this night serum is quite expensive especially if you consider that it doesn't come with any bulk discounts. We also feel that the lack of clear application instructions can cause some customers to either underuse or overuse the product. Lastly, the guarantee policy offers some peace of mind but does not measure up against other leading brands.
Top investigative research brought to you by the experts at Customer Review.