FERI Flawless Quad AG Night Serum Review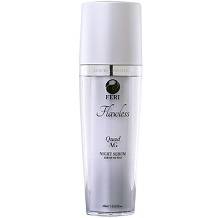 The following review is of FERI Flawless Quad AG Night Serum. The manufacturer claims that it will restore skin balance and diminish wrinkles. They argue that it contains unique elements which work in harmony to prepare the skin for the next day. We determine if there is any truth in this claim by assessing various product factors. As a result, we will help you make an informed purchase.
Ingredients
MicroSilver
Spruce Extract
Palmitoyl Hexapeptide
MicroSilver is a patented ingredient. Its goal is to calm hypersensitive skin and support the healing process. It works by fighting and eliminating harmful bacteria. Spruce Extract is a rich source of antioxidants. Its role is to prevent oxidative stress and external damage. Goji Berry Extract is rich in Vitamin E and C. Hence, it may improve complexion and protect the skin from irritants. Palmitoyl Hexapeptide works with the skin on a cellular level. It encourages the development of healthy cells. Therefore, it can promote softer looking skin.
From our research into FERI Flawless Quad AG Night Serum, we can see no indication that it contains additional supportive ingredients. Therefore, it may not deliver optimal skin care results. This is because competitor products contain other important nutrients. As an example, other formulas include collagen. Collagen is an essential plumping agent that supports the structural integrity of the skin. Furthermore, several competitor products include clinically proven patented ingredients. These patented ingredients serve as a testament to product quality and a minimum of six should be found within the best options on the market. This formula only contains one, MicroSilver. It is, however, appealing to note that it is cruelty-free and vegan-friendly.
Instructions
The manufacturer provides clear instructions on how to use this product for best results. They suggest cleansing the face and applying it, once dry, before bed. Users should gently massage one to two drops onto the face and neck, avoiding the eyes. They warn that users applying it on acne-prone skin should not do so alongside other medication. Therefore, this product may not be suitable for everyone. Furthermore, it is concerning to note that they do not mention the formula concentration. Consequently, we cannot assess its strength in comparison to competitors.
Price
If you wish to purchase the product, you can do so online. The manufacturer provides a link to the store where it can be bought. It retails for $98. This is very expensive, especially in comparison to competitor products. The fact that it does not contain patented ingredients brings the steep price into question. Furthermore, there are no bulk-buy deals to encourage long-term use.
Guarantee
Customers are eligible for one product refund within 90 days of purchase. Open products apply for this refund. This is positive to note, however, the allowance for only one refund brings its quality into question. It does not bode well for the efficacy of the brand's products in its entirety. Furthermore, there are practically no customer reviews for it. Therefore, we cannot be confident in its effectiveness as there is no assurance of it.
Conclusion of Our FERI Flawless Quad AG Night Serum Review
FERI Flawless Quad AG Night Serum appears to be an effective product. It contains ingredients that reduce wrinkles and prevent damage. Also, there is a lengthy guarantee. That said, it is displeasing to see that it only contains one patented ingredient. It is expensive in comparison to alternatives on the market. There are no bulk-buy deals to support long-term use. And, there is no indication of ingredient concentrations. Therefore, we recommend searching for a more proven formula.
Top investigative research brought to you by the experts at Customer Review.