Lifeline Night Recovery Moisture Complex Review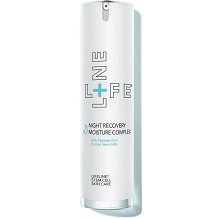 This is a comprehensive review of Lifeline Night Recovery Moisture Complex. In this review, we will discuss what this product can do for you and allow you to decide if it is worth a try. The manufacturer claims that the product is formulated to work with your natural healing cycle to help improve the skin's appearance during the night. To find out more, keep on reading.
Ingredients
Peptides
Safflower seed oil
The manufacturer Lifeline has provided the customer with three key ingredients in their Night Recovery Moisture Complex serum. They also list all the other ingredients that are found in the product on their official website. The patented peptide extracts are from non-embryonic human stem cells and claim to help stimulate the natural production of collagen, hyaluronic acid, and elastin which help to repair damaged cells. The green tea acts as an antioxidant and the safflower oil helps to soften the skin. Based on the research we have done, other brands seem to contain at least 6 patented ingredients that are clinically proven to be safe and effective. Another factor that makes us wonder if the product is effective is that it fails to contain certain key ingredients such as jojoba oil, wheat extract, electric daisy flower, and Alpenrose.
Instructions
The user is recommended to dispense 2 pumps of the product and apply it to clean skin. It is best to spread it evenly over the entire face. This process must be repeated every evening.
Price
A 1 fluid ounce of Lifeline Night Recovery Moisture Complex cost a total of $125.00. This is a very expensive product and many people will not be able to afford it. In addition to this, the manufacturer does not offer a discount. Also, there are no package deals for the customers to take advantage of if they wish to purchase in bulk.
Guarantee
The manufacturer states that they will fully refund any items that you are not satisfied with. All you need to do is contact them within 30-days. It is, however, noteworthy that the manufacturer does not provide information concerning the condition the product may be in upon returning it. This could leave you at risk due to the refusal of your return.
Conclusion of Our Night Recovery Moisture Complex Review
In this review of Lifeline Night Recovery Moisture Complex, we have come across a few positive and a few negative aspects. We like the fact that the manufacturer provides the product in a pump bottle followed by clear instructions concerning the use of the serum.
There are a few more things that we do not like about the product. First of all, the product seems to lack many key aspects concerning the ingredients. There is an absence of sufficient patented ingredients as well as certain key essential ingredients. As a result, the product may not be as effective as other brands. Furthermore, the product is priced extremely high and there are no discounts on offer. Finally, the manufacturer does not include all crucial information concerning their guarantee and it seems that you will be at risk.
For these unfortunate reasons mentioned above, we cannot recommend Lifeline Night Recovery Moisture Complex as an effective product.
Top investigative research brought to you by the experts at Customer Review.