Dermosil Exfoliating Night Serum Review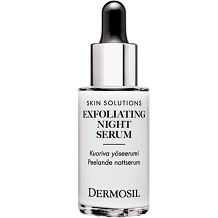 Today we will examine Exfoliating Night Serum manufactured by Dermosil. This review will take a look at the benefits of the product and also dive a little deeper into the incorporated ingredients of this night serum. This product helps to revive tired and fatigues skin. It also helps to fight the effects of ageing and removes through the night to cleanse the skin from dead skin cells. If you are on the lookout for a good quality night serum then read the rest of this review below.
Ingredients
Aqua
Dicaprylyl Carbonate
Gluconolactone
Propanediol
Sodium Hydroxide
Xylitylglucoside
Anhydroxylitol
Glycerin
This night serum works by exfoliating the skin thereby removing dead cells and impurities. This helps to keep the skin rejuvenated and radiant. It is a chemical facial peeler that helps to restore moisture to your deepest layers of skin. This product also works to diminish the appearance of fine lines and wrinkles. It tones the skin and provides support for the formation of collagen. This helps to strengthen the skin cells from within and can help to improve the overall texture of your skin. Although the ingredients in this product are useful, it is not mentioned how many of them are active ingredients. Leading competing brands offer a minimum of 10% active ingredients in their night serums with at least 5 ingredients that are patented. This product also seems to be missing essential ingredients like Jojoba Oil and Hyaluronic Acid.
Instructions
Avoid applying this serum to the skin around the eyes or damaged skin. It is recommended that you dab the serum on to cleaned skin in the evenings. Don't apply this product if you are going to be exposed to strong sunlight. Unfortunately, we could not find any information stating how much product should be applied every evening. This lack of information can lead customers to underuse or overuse the product.
Price
This product is available online and can be bought directly from the manufacturer's website. Each bottle contains 30ml of product and costs $14.85. Only orders valued at $57.10 or more will qualify for free shipping.  The delivery time is usually between 7-10 business days. Unfortunately, we could find no discounts offered with this product.
Guarantee
This company offers a 90-day money back guarantee if you find you are unhappy with your purchase. They only accept unopened bottles and this guarantee is valid from the date of purchase. This refund policy does not cover shipping or handling costs. Although this guarantee policy covers you for faulty or damaged goods it does not give customers the opportunity to try out the product in order to evaluate its effectiveness.
Conclusion of Our Exfoliating Night Serum Review
We like that this product is affordable and that it comes in an airtight pump bottle. We also like that it is easy to use and that the manufacturer's website is easy to navigate. However, we feel that the guarantee policy does not really give peace of mind to brand new customers. We are also a bit disappointed in the lack of key ingredients like Jojoba Oil and Vitamin B6. Without these ingredients, the product may not be as effective as other leading brands.
Top investigative research brought to you by the experts at Customer Review.