EO Transformative Night Serum Review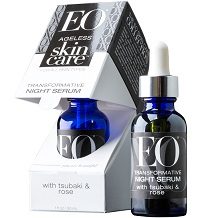 Our review of EO Transformative Night Serum will help you with all the facts you need to know about the product. The manufacturer claims that it is filled with organic botanical ingredients to help restore the skin and rejuvenate its natural radiance. Keep on reading to see what this EO Transformative Night Serum offers and if it is worth a try.
Ingredients
EO Essential Oil Blend
Argan oil
EO Transformative Night Serum contains a very long list of ingredients that mainly include different oils derived from botanicals. The manufacturer does not indicate the active ingredients and there does not seem to be any patented ingredients. What stands out is the Argan and Avocado oils which provides vitamin E. The EO essential oil blend consists out of Rosa Damascena Flower Oil, Pelargonium Graveleons Flower Oil, and Boswellia Carteri Oil, just to name a few. When comparing the product to other brands, the ingredients of this product do not match the high criteria.
Instructions
The product comes in a glass bottle with a dropper. This may be messy to use. An airtight pump bottle would be more efficient. The manufacturer recommends that the user gentle massage the product onto the face and neck. They state that one must pay special attention to the fine lines and wrinkles. The product is intended to be used at night to nourish the skin during sleep.
Price
EO Transformative Night Serum comes in a 1 fluid ounce bottle and is priced at $39.99. It can be purchased directly from the manufacturer's website. The manufacturer does not provide a range of purchasing options with discounts for bulk buying. Thus, customers will not be able to save whilst getting the amount of product they need.
Guarantee
The manufacturer offers a money-back guarantee. If you are not satisfied with the product, you may contact customer service within 14-days to request a return. There is no indication concerning the state the product must be in upon returning it. In addition to this, 14-days will anyway not provide enough time to test the product. This means that you will be purchasing this product as a financial risk.
Conclusion of Our EO Transformative Night Serum Review
After our informative EO Transformative Night Serum review, we found certain aspects that where positive and others that were negative. We appreciate the fact that the manufacturer provides their customers with clear usage instructions to avoid any miscommunications.
Unfortunately, there are many more things that we do not like about the product. First of all, customers will not be able to save whilst purchasing this product as there are no discounted package deals available. Furthermore, the manufacturer does not seem to indicate the main active ingredients and does not provide patented ingredients that have been tested for effectiveness. Lastly, customers will be at risk when purchasing the product as the manufacturer offers a weak guarantee. EO Transformative Night Serum does not seem to be a very promising product and we do not recommend it.
Top investigative research brought to you by the experts at Customer Review.