Alanna Night Miracle Serum Review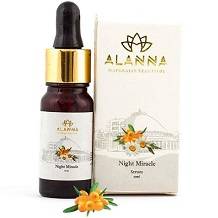 Today we review Night Miracle Serum manufactured by Alanna. This product claims to brighten skin and provide you with that instant glow. It also claims to reduce pigmentation and helps to eliminate dark circles and fine lines, especially around the eyes. This night serum can also be used as a primer to your foundation. If you are searching for the perfect serum then this might be it! Read the rest of this review for more information regarding cost, ingredients and application instructions.
Ingredients
Sea Buckthorn
Kumkumadi Oil
Mulethi
Sesame Oil
Nag Kesar
Daru Haldi
Babchi
This product is cruelty, paraben and sulphate free. It also contains no artificial colour or fragrances. Sea Buckthorn, Kumkumadi and Sesame Oil work together to unclog pores and reduce the oil levels of your skin while you sleep. Mulethi and Chamomile also have excellent healing abilities and helps to reduce inflammation and damage caused by excessive sun exposure. They are rich in antioxidants which fight free radicals and support skin health. Nag Kesar is also known to act as a natural skin lightener. This product contains useful ingredients but does not explicitly state the number of active ingredients present in this serum. Competing brands offer up to 10% active ingredients in their night serums and also have patented ingredients. This product also seems to be missing crucial ingredients like Jojoba Oil and Hyaluronic Acid.
Instructions
It is recommended that you apply a few drops on clean dry skin all over your face and neck. Massage the product into the skin until it is fully absorbed. For best results apply the product right before bedtime. Unfortunately, this product does not come in an airtight pump bottle which makes it less easy to apply and can lead to spillage.
Price
The price for this product is $8.19 per bottle. Each bottle contains 10 ml of product and is available online where you can buy it directly from the manufacturer's website. This product is fairly affordable compared to other leading brands, but seeing as the asking price is so far below the normal price for night serums, we question if this product will really be effective.
Guarantee
The manufacturer of this product offers a 14-day full refund for any unopened orders. This guarantee policy is valid from the date of purchase. Although this policy can come in handy if you received a faulty product, it will provide little use for first-time customers if they find that this product is not satisfactory.
Conclusion of Our Night Miracle Serum Review
We like that this product is affordable and widely available online. We also like that the application instructions are fairly easy to follow. However, based on the low cost we question if the ingredients are really of a high quality. We are also concerned about the exclusion of vital ingredients such as Jojoba Oil and Hyaluronic Acid. The guarantee policy offered with this product is not very competitive when compared to other leading brands, and will not provide peace of mind for first-time customers.
Top investigative research brought to you by the experts at Customer Review.