ThisWorks No Wrinkles Night Repair Review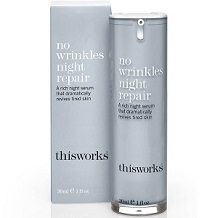 In today's review, we will take a closer look at a night serum called ThisWorks No Wrinkles Night Repair. This product claims to be a rich night serum that will help to revive tired skin. Below you will find more information about the ingredients in ThisWorks No Wrinkles Night Repair and other benefits the manufacturer offers.
Ingredients
Cereus Grandiflorus (Cactus) Flower Extract
Citrus Limon (Lemon) Peel Oil
Citrus Aurantium Amara (Petitgrain) Oil
ThisWorks No Wrinkles Night Repair contains a very long list of ingredients, however, they do not indicate the main active ingredients. Above are a few of the ingredients we think are natural and which may be beneficial. The manufacturer claims that the ingredients, including cactus flower, retinol, and hyaluronic acid help to repair and renew the skin during the night. Based on the research we have found, the product does not seem to contain patented ingredients that have been proven to be effective in clinical studies. Lack of these aspects may leave the product behind other brands that contain at least 6 patented ingredients.
Instructions
The manufacturer states that the product should be used at night to see the best results. It can however also be used during the day, although an SPF should always be worn in the day. This product should be used underneath a moisturizer. The 1 fluid ounce pump bottle should last 6 to 8 weeks with nightly use.
Price
ThisWorks No Wrinkles Night Repair can be purchased directly from the manufacturer's website. A bottle will cost the customer $83.00. This is a little expensive. A discount or the option of different bundle packages may have helped the customer, however, these are not offered.
Guarantee
The manufacturer offers a useless money-back guarantee. Only items that are sealed and in their original packaging may be returned for a full refund. In addition to this, the product must be returned within 28-days. First-time customers will not be able to test the product and return it if it does not work. Thus, there is financial risk involved when purchasing a product from this manufacturer.
Conclusion of Our ThisWorks No Wrinkles Night Repair Review
With completing our review of ThisWorks No Wrinkles Night Repair we came across a few positive things as well as a few negative things. We like that the manufacturer states exactly when and how the product should be used. This ensures that the product is used optimally.
However, there are many more things that we do not like. Firstly, we find that the ingredients do not fit the criteria of a night serum. There are no patented ingredients found and the manufacturer does not state the key ingredients in the product. Furthermore, the product is priced a little high and there are no discounted bundle deals on offer. Finally, the guarantee offered will leave you at risk. Therefore, we do not recommend the use of ThisWorks No Wrinkles Night Repair.
Top investigative research brought to you by the experts at Customer Review.