Sustainable Youth Super Boost Night Serum Review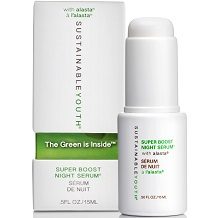 Sustainable Youth Super Boost Night Serum is a product that is formulated to rejuvenate, restore, and rebalance the skin. The manufacturer claims that this innovative serum is packed with potent ingredients. The following review assesses the truth of this claim and examines factors contributing to the product's effectiveness. This information will help you confidently decide if this is the right product for you.
Ingredients
Alasta
Glycerin
Aloe Barbadensis Leaf Extract
Glycyrrhiza Glabra (Licorice) Root Extract
Simmondsia Chinensis (Jojoba) Seed Oil
Cananga Odorata Flower Oil (Ylang Ylang)
Alasta is a patented ingredient that is claimed to prep the skin for maximum moisture while visibly restoring its natural glow and firmness. Glycerin is a common moisturizing ingredient as it helps draw moisture into the skin. Aloe Leaf Extract is known for its healing and soothing properties which help repair damaged skin tissue. Licorice Root Extract works to improve skin complexion and uneven tones. Jojoba Seed Oil works like sebum and regulates oil balances of the skin. Ylang Ylang has anti-inflammatory properties and may reduce irritations. This formula contains many ingredients beyond the ones listed above, however, the manufacturer has not made it clear as to which are active. Therefore, the ingredients that are influencing the outcome of this product cannot be accurately determined. This brings the quality of this formula into question. While it does contain one patented ingredient, Alasta, several competitor products contain up to five patented ingredients. These clinically proven ingredients serve as a testament to the product quality and should be found in the optimal product. It is positive to note that this product is formulated by a company that puts emphasis on sustainability and ethics.
Instructions
It is recommended that users pump four to five drops onto the fingertips and gently massage the product onto cleansed skin before bed. Beyond this information, there is no warning of precautions that should be taken before first application or the strength of the ingredients used. This makes it difficult to accurately gauge how this formula weighs up against top competitor products.
Price
This product is sold through the manufacturer's online store for $150 per 15ml pump bottle. This price is extremely high when compared to many competitor products on the market. Furthermore, there are no discounts or package deals to ensure that prolonged use can be sustained.
Guarantee
The manufacturer claims to offer a 100% guarantee for purchases of this product, however, provides only an email address for queries. They fail to stipulate any regulations or requirements for this return policy which brings its reliability into question. A trusted guarantee is usually clearly outlined which showcases transparency. In this product's case, the guarantee is questionable. Upon further research, we were unable to locate customer reviews on third-party sites. This means that customers cannot be sure if the product will work until after a purchase has been made. This does not inspire much confidence.
Conclusion of Our Sustainable Youth Super Boost Night Serum Review
Is Sustainable Youth Super Boost Night Serum the ideal product for you? It does contain a patented ingredient which indicates the formula is of a high quality and a guarantee supports customer purchases. However; the guarantee is vague and unreliable, the product contains fewer patented ingredients than several alternatives on the market, and the price is extremely expensive. Therefore, we recommend that you find a more effective and affordable night serum.
Top investigative research brought to you by the experts at Customer Review.