Opti Choice CoQ10 plus Omega 3 Review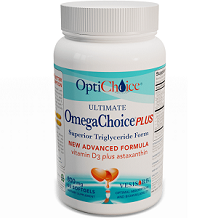 Today we are reviewing a product called Opti Choice CoQ10 plus Omega 3. The maker's of this product claim that it delivers superior absorption of ingredients that are beneficial for the health of your heart. The manufacturer also claims that this product contains the highest and purest concentration of Coenzyme Q10, EPA, and DHA for more stamina, endurance, and energy.
Ingredients
Vitamin E – 10 IU
Omega Choice Purified Fish Oil – 1000 mg
EPA – 650 mg
DHA – 100mg
Total Omega-3 Fatty Acids – 850 mg
Natural Coenzyme Q10 (Ubiquinone) – 200mg
Other Ingredients:
VESIsorb Microemulsion Preconcentrate
Medium Chain Triglycerides
Nonionic Surfactant
Sucrose Fatty Acid Esters
Gelatin
Glycerin
Ascorbyl Palmitate
Coenzyme Q10 plays a crucial role in producing energy, preserving heart health, slowing down aging, and reducing cholesterol levels. Omega 3 is also essential for heart, eye, brain and immune health. The additional ingredients in this product compromise the purity and quality of the Coenzyme Q10 content. Because this product contains gelatin, we assume that it is animal gelatin and therefore makes this product unsuitable for vegetarians and vegans.
Dosage
Take two or more capsules daily with food. The manufacturer does not specify a preferred time of day for taking the capsules, and by saying "two or more" this is ambiguous and confusing information. The amount of COQ10 per serving (2 capsules) is 200mg.
Possible Side Effects
Consult with a healthcare provider before using especially if you are pregnant, nursing, or have an existing medical condition.
Price
You can purchase a 60 capsule bottle of capsules online for $39.95 from the manufacturer. This is a 30 day supply of capsules. Shipping is free if you spend $99 or more. If you are a VIP member you can get 10-20% off, free shipping, and no tax when you spend between $99 and $199.
Guarantee
Opti Choice offers a 1-year guarantee on unopened bottles of capsules.
Conclusion of Our Opti Choice CoQ10 plus Omega 3 Review
Among the pluses of this product are that it only contains natural ingredients, and there is a generous 1 year manufacturer's guarantee. The supplement packs a high concentration per serving of COQ10 at 200 mg. There are bulk discounts if you join the VIP club giving between 10-20% off the purchase price when spending $99 to $199, with free shipping and no tax. Any regular purchases over $99 also have free shipping. We do have some concerns however. A one month supply of capsules costs $39.95 which is a lot when buying one bottle of capsules. The guarantee is long but does not include the option to return opened bottles of capsules. Because this product contains gelatin, we assume that it is animal gelatin and therefore makes this product unsuitable for vegetarians and vegans. There is no assurance that this product has non GMO ingredients, that it is free from binders, and fillers and that it is made in an FDA certified facility. For all these reasons we are not able to recommend this brand of COQ10. We suggest that you seek out a more affordable version of COQ10, with a guarantee that allows the return of opened bottles of capsules.
Top investigative research brought to you by the experts at Customer Review.