Health House CoQ10-Omega 3 Review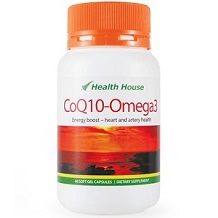 Today we review Health House CoQ10-Omega 3. By combining the power of fish oil containing Omega 3 and CoQ10, this supplement claims to help improve your heart and brain function. The antioxidant powers of the CoQ10 help to naturally preserve the fish oils, making the Omega 3 more potent.
Ingredients
Concentrated Fish Oil
CoQ10
Omega 3
Omega 6
Vitamin A
Vitamin D
While Omega 3 is extremely good for your heart, Omega 6 can be detrimental to your overall health. The best fish oil supplements have been manufacturer to have all of the Omega 6 taken out. Additionally, clinical research shows that the daily needed amount of CoQ10 is 250 mg, while this supplement only contains 75 mg per capsule. Lastly, CoQ10 is best absorbed into the body when BioPerine has been added to the supplement, which it has not been for these capsules.
Dosage
One capsule taken daily is the recommended dose. The dose should be taken with food. Like stated, with only one capsule daily, you are only getting less than a third of the daily needed CoQ10, and it will not all absorb correctly, as there is an absence of black pepper extract.
Possible Side Effects
If you are taking Warfarin or other known blood thinners, you should consult with your doctor or other healthcare professional before adding this product to your daily regimen. CoQ10 is a known blood thinner and could react badly with additional blood thinning medications.
Price
Each bottle of this product contains 60 softgels and costs $32.25. If you buy four or more products from this company, you can save an additional $13.16 off of the total purchase price. As the company is based in New Zealand, they do offer shipping to the US, but they do not include the shipping cost or any additional taxes and duty fees in your price. As import fees can be high, it is important to look into any additional fees before making your purchase.
Guarantee
The company does offer a 60 day money back guarantee. For international customers, this 2 month period begins from the date of delivery, and not the date of purchase. If you are unhappy with the product, you will need to first contact the company to start the refund process. After you return the products to the company, they will issue you a full refund for the purchase price. That means you will be stuck paying for international shipping twice and for any import taxes as well.
Conclusion of Our Health House CoQ10-Omega 3 Review
There are a few things we liked about Health House CoQ10-Omega 3. These softgels come in an easy, once per day dose. Also, for two months worth of supplements, the price is relatively low, and there are additional discounts offered.
Unfortunately, we have many concerns about this product. The fish oil used contains Omega 6, and there is not enough CoQ10 per capsule. While the price is low, it does not include the price for international shipping or any import taxes and duty fees. Lastly, in order to take advantage of their money back guarantee, you will need to pay for international shipping to return the product. For these reasons, we cannot recommend this supplement to help improve your heart health.
Top investigative research brought to you by the experts at Customer Review.