Nature's Own CoQ10 Complex Review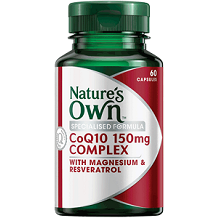 Today we review Nature's Own CoQ10 150 mg Complex. This once per day formula offers a high amount of CoQ10 to help improve your cardiovascular health. Combined with magnesium and resveratrol, these antioxidant rich capsules will help your heart be healthy and increase your energy. On the positive side, these capsules are free of gluten, starch, lactose, and sugar. This allows almost anyone to take these capsules without worry.
Ingredients
Co-enzyme Q10
Magnesium
Fallopia Japonica Extract
Offering only 150 mg of CoQ10 per capsule, this product is lacking, compared to the clinically studied 250 mg of this nutrient that our bodies need. Additionally, BioPerine should be added to a product like this to help your body absorb all of the nutrition from the other ingredients.
Dosage
Every day, you should take one capsule with food. It is not stated whether or not this supplement should be taken in the morning or evening for the best results.
Possible Side Effects
This product contains beeswax, so if you are allergic to bees, you should avoid taking these capsules. Also, if you are on warfarin therapy, you should not take this supplement at all, unless specifically suggested by a healthcare professional.
Price
This manufacturer does not sell their products directly to their customers. Instead, they offer 4 third party retailers in which carry their products for distribution. Of these 4 different retailers, only 3 had working websites, and only 1 actually carried this specific supplement. According to this retailer, the manufacturer's suggested retail price for a bottle of 60 capsules is $39.99, but they have it on sale for only $20.00. As this is a two month supply, the price of this supplement is rather low. With such a low price, it shows the ingredients inside may not be as good of quality as you may hope for.
Guarantee
As with most retailers that do not sell their products to customers, this company does not have any type of guarantee or return policy listed on their website. Without a guarantee it shows they do not fully stand behind their products. Also, we checked with the only third party retailer that sells this supplement, and they do not accept returns or offer refunds for any type of vitamin supplement, meaning you need to be 100% sure before making this purchase.
Conclusion of Our Nature's Own CoQ10 150 mg Complex Review
There are a few things we liked about Nature's Own CoQ10 150 mg Complex. These capsules are formulated so you only need to take one capsule per day. Additionally, this supplement is free of gluten, dairy, and other common food allergens.
Unfortunately, we found many problems with this product. First of all, the daily dose only contains 150 mg of CoQ10, which is not enough to truly help your heart health. Secondly, with such a low price for a two month supply, it raises concerns about the quality of the ingredients used. Lastly, with no guarantee or return policy available, if you find yourself unhappy with your purchase, you are unable to receive a refund for your purchase. For these reasons, we cannot recommend this supplement to help your heart stay healthy.
Top investigative research brought to you by the experts at Customer Review.