ASquared Nutrition CoQ10 Review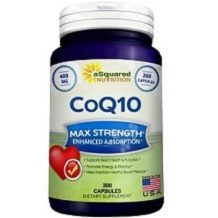 This product review focuses on a supplement called ASquared Nutrition CoQ10. CoQ10 (short for coenzyme Q10) is claimed to enhance energy and protect cardiovascular health. People over 40 years old and those who have taken statin may be at risk of a coenzyme Q10 deficiency and so will suffer from low energy and the higher risk of cardiovascular disease. In this review, we determine the quality of the supplement by examining the facts about its ingredients, side effects, price and guarantee.
Ingredients
The active ingredient in this supplement is coenzyme Q10 which is also known as ubiquinone. Ubiquinone is a vitamin like molecule that helps proteins in the body perform their functions. One of the proteins that it helps is the one which produces a molecule called ATP. ATP is generated during a process called cellular respiration, mostly in the third phase called oxidative phosphorylation, where ubiquinone features. ATP is used as the energy source to drive almost all chemical reactions in the cell. By taking it in from outside sources such as this supplement, a person increases their capacity to produce more ATP and have more energy.
Ubiquinone is also able to scavenge free oxygen radicals. Free oxygen radicals are produced as a result of cellular metabolism but if they are left without an antioxidant like ubiquinone, they cause damage to cell structures which produces chronic inflammation. Chronic inflammation is a precursor for cardiovascular disease. So by removing these toxic chemicals, ubiquinone is able to protect the heart from developing this chronic condition.
Dosage
One capsule can be taken daily with a meal, unless otherwise directed by a healthcare professional. Each capsule contains 400 mg of ubiquinone. This is a little bit over the optimal amount of 250 mg as determined by research. This may increase the chance of adverse effects and drug interactions.
Possible Side Effects
Pregnant or nursing women should consult a doctor before taking this supplement. Ubiquinone can also interact with anticoagulants like Warfarin, and may interact with other chronic medication. Individuals on chronic medication should also consult a doctor before using the supplement. ASquared Nutrition CoQ10 contains gelatin as a non-active ingredient, which is not suitable for use by vegans or vegetarians.
Price
One package of ASquared Nutrition CoQ10 contains 200 capsules. A package can be purchased online for $39.99. Buying several packages at once can score a customer discount. Buying two packages together earns a 10% discount ($3.99 per package), three packages earns at 15% discount ($5.99 per package), and four or more packages earns a 20% discount ($7.98 per package).
Guarantee
A customer may return unopened and unused products within 30 days of purchase. This means that a customer is not protected by this guarantee if they do not receive the results they were expecting.
Conclusion of Our ASquared Nutrition CoQ10 Review
The active ingredient of this product is well scientifically researched and will likely provide the benefits that the manufacturer claims. The supplement is also offered at a fairly reasonable price with a discount for bulk orders.
This product is lacking in some respects though. The discounts that the manufacturer offers are not a significant as some of the other discounts offered by other manufacturers. More importantly, the guarantee is completely useless and does not protect the customers at all.
Top investigative research brought to you by the experts at Customer Review.