Source Naturals D-Mannose Review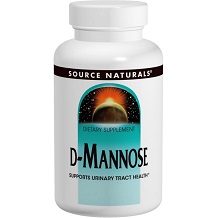 The following is a review of the product called Source Naturals D-Mannose. This product claims to support the complete health of the sensitive urinary tract being the urethra, ureter, bladder, renal pelvis as well as the renal parenchyma. The most common UTIs mostly occur in women. There are different reasons for developing UTIs  including sex, constipation, uncontrolled diabetes, holding in your urine when you need to go, dehydration, birth control, feminine products such as pads and tampons (where bacteria can grow very easily) as well as kidney stones.
Ingredients
Within this product lies 500mg of D-Mannose. There is 1g sugar and 1g carbohydrates. D-mannose is a type of sugar related to glucose. D-mannose is especially used for stopping UTIs to develop. Other ingredients found within this supplement are gelatin, maltodextrin, dibasic calcium phosphate, silica as well as magnesium stearate. This product contains no yeast, dairy, egg, gluten, soy or wheat. It also contains no starch, salt, preservatives, artificial colors, flavors or fragrances.
Dosage
The recommended dosage of this particular supplement is 1 capsule to be taken twice daily. We find this to be quite a low dosage on average as other supplements suggest a more frequent intake of D-Mannose.
Possible Side Effects
It is important to consult with your healthcare practitioner before taking this supplement if you are pregnant or breastfeeding. D-Mannose is known to cause loose stools and bloating. It may be harmful to the kidneys when taken in very high doses. Research suggests that D-mannose may make blood sugar harder to control with regards to people suffering from diabetes.
Price
The suggested retail price for this supplement is $12.75 for 30 capsules, $23.98 for 60 capsules and $46.50 for 120 capsules. They don't really offer any kind of big savings if you purchase larger quantities which is a bit disappointing, especially with regards to other supplements like this on-line which offer great savings for "buy-more-than-one" purchases. They can be purchased at health stores as well as online but not through the company directly.
Guarantee
There was no guarantee found for this particular product which comes as a surprise. When looking up the FAQ (Frequently Asked Questions) there was nothing to show which is a bit disturbing as this is not usually the norm.
Conclusion Of Our Source Naturals D-Mannose Review
This product was shown to have a high dose of D-Mannose which is standard across the board of most D-Mannose supplements. However, there are no sales or discounts given for large quantities purchased and the fact that no guarantee was found seems to be problematic as guarantees normally reflect the product's own belief in its efficacy.
Top investigative research brought to you by the experts at Customer Review.