Puritan's Pride Cranberry Fruit Concentrate Review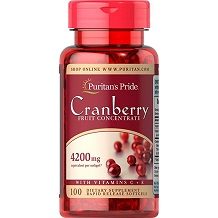 The following review is for a product called Puritan's Pride Cranberry Fruit Concentrate. This product supports Urinary Tract Health.
Ingredients
Vitamin C (as Ascorbic Acid) – 40 mg

Vitamin E (as dl-Alpha Tocopheryl Acetate) – 2.7mg

Cranberry Concentrate – 168mg

Other Ingredients – Gelatin, Soybean Oil, Vegetable Glycerin, Soy Lecithin, Yellow Beeswax

This product is free from artificial colors, flavor as well as sweetener. There are no preservatives, sugar, starch or milk/lactose. There is no gluten, wheat, yeast or fish. This product is also sodium free.
Vitamin C limits the growth of certain bacteria. It does this by acidifying the urine. Vitamin E is said to help with Urinary Tract Infections especially when taken at the very start for treatment purposes. Vitamin E is also said to reduce the frequency of common UTI symptoms such as fever, urgency and running back and forth to urinate. The Cranberry Concentrate has a special ingredient called A-type proanthocyanidin (PAC). This keeps bacteria from infecting your bloodstream. It cannot stop the bacteria from growing but the great news is that it can prevent it from doing harm. What it does in essence is makes it much harder for the bacteria to stick to the bladder.
Dosage
The recommended dosage is for adults to take 2 softgels three times daily, preferably after meals. These are rapid release softgels.
Possible Side Effects
If you are pregnant, nursing, taking any medications, planning any medical procedure or have any medical condition, you are advised to see your doctor before taking these supplements. You are encouraged to discontinue use and consult with your doctor if any adverse reactions occur. These supplements are to be kept out of the reach of children.
Price
The price for a bottle of Puritan's Pride Cranberry Fruit Concentrate is $18.99 for 1 bottle of 100 softgels plus you get two extra bottles free. If you get two bottles of 100 softgels you pay $37.98 and receive 4 bottles for free. For the 250 softgels option you will pay $41.99 for 1 and receive 2 for free. For 2 bottles of 250 softgels you will pay $83.98 and receive 4 bottles for free. All of the above can be purchased online.
Guarantee
Puritan's Pride guarantees every product that they sell. Their products are manufactured under the stringent quality controls required by law. Their products are completely guaranteed for a full year from purchase date. If not completely satisfied, unused portions can be returned and they will promptly refund the money used to purchase the product.    
Orders can be cancelled up to 20 minutes after they have  been placed.
Conclusion Of Our Puritan's Pride Cranberry Fruit Concentrate Review
This product is priced well and has a good 365 day money back guarantee. The only negative thing we found concerning this product was the fact that it was lacking in certain natural key  ingredients that are essential  for complete urinary tract health.  
Top investigative research brought to you by the experts at Customer Review.