Zahler UTI Revolution Review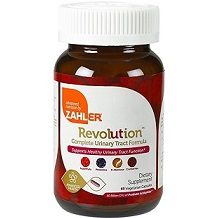 Zahler UTI Revolution claims to be as effective as antibiotics in treating urinary tract infections (UTIs) without the unwanted side effects. It claims to help fend off recurrent infections.
Ingredients
UTIs are caused by bacteria entering the urethra and bladder where they multiply and spread. Once the infection takes hold, uncomfortable symptoms follow such as a frequent urge to urinate, painful urination, and pressure in the lower abdomen. UTI Revolution contains a powerful blend of natural ingredients including D-Mannose, cranberry, probiotics and prebiotics, which provide both fast-acting relief of urinary tract infections, and a healthy, properly maintained urinary tract for long-term health and wellbeing.
Amounts Per Serving
Vitamin C (Ascorbic Acid) 100 mg 167%

Cran-Max® 1 g

Cranberry (Vaccinium Macropcarpon) Fruit & Seed Powder

D-Mannose 1.2 g

Lactobacillus Acidophilus 250 mg

Pumpkin Seed Extract

100 mg

NutraFlora® (Fructooligosaccharides)

80 mg

Proprietary Blend 50 mg
-(Cabbage Palm (Acai Berry) Fruit Powder, Pomegranate Fruit Powder, Lycium (Goji Berry) Fruit Powder

Camu Camu Fruit Powder

25 mg

Acerola Berry Powder

25 mg

Dandelion Root Extract

20 mg
– Vitamin C is a powerful antioxidant. It helps prevent the common cold, may help prevent cardiovascular disease and decreases the risk of developing a urinary tract infection, (UTI).
– Cranberry Fruit & Seed Powder naturally contain Vitamin C, Vitamin E (which is a fat-soluble antioxidant) as well as Vitamin K (which have anti-inflammatory) properties.
– D-Mannose is a kind of sugar that is related to glucose. It is used for preventing urinary tract infections (UTIs) and treating carbohydrate-deficient glycoprotein syndrome, an inherited metabolic disorder.
– Lactobacillus Acidophilus is a type of bacteria that is found in your intestines. It produces an enzyme called lactase which breaks down lactose, into lactic acid.
– Pumpkin Seed Extract causes an increase in urination which helps relieve bladder discomfort.
Other Ingredients: Hydroxypropyl Methylcellulose (Capsule), Microcrystalline Cellulose.
Dairy free and soy free. Kosher. Pareve.
Dosage
The suggested use of this product is 2 capsules 2 times daily preferably with meals, with a full glass of water or as directed by a healthcare practitioner. There are 15 servings per container, 60 capsules.
Possible Side Effects
You need to consult with your physician first if you are either pregnant, nursing or on medication.
Price
The regular price of this product is $59.95. When purchased online the price goes for $29.98. They also have an auto-refill option which you just have to be careful of signing up for, in case you forget about it and don't want to carry on with the product.
Guarantee
The Professional Supplement Center, which sells this product, accepts unopened returns within 60 days of receipt for a full refund minus any shipping fees. A prepaid shipping label will be sent to you (the cost of your return is on the Professional Supplement Center). Once they receive your return, you will be refunded within 3-5 business days.
Conclusion Of Our Zahler UTI Revolution Review
We find this to be a good product with an average market price. The only concern is with the guarantee. You will not get your money back if you try this product as it only accepts unopened bottles.
Top investigative research brought to you by the experts at Customer Review.