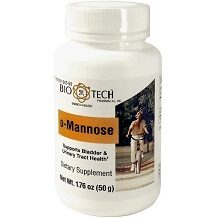 There are a number of reasons why you might consider taking a natural remedy for an uncomplicated urinary tract infection. Natural remedies generally have less or no side effects as compared to pharmaceutical products. Either way it is important to take something for a urinary tract infection to prevent it from complicating. This review takes a look at Biotech D-Mannose, a natural remedy for urinary tract infections.
Ingredients
The only active ingredient of this natural product is D-mannose. D-mannose is a natural sugar that binds to the parts of the E. coli bacteria that they use to stick to the wall of the tubes and organs in the urinary tract. This is how the E. coli establishes the urinary tract infection. When the D-mannose binds to the sticky bits of the E. coli, it cannot attach and is washed away in the urine.
D-mannose is well researched and scientists have determined that it reaches the urinary tract quite sufficiently when taken orally, because it is transported from the intestine to the urinary tract via the blood.
While the action of D-mannose is very helpful, it should not be the only ingredient used to relieve a urinary tract infection. There should be other ingredients to reduce the inflammation caused by the infection.
Dosage
This product comes in a powdered form which can be taken as half a teaspoon with 6 oz of water three to four times a day. A maintenance dose can be taken as half a teaspoon to one teaspoon with 6 oz of water once a day.
The manufacturer also mentions that the product is safe for children to use. Children should take a quarter to a half a teaspoon of the powder with 6 oz of water once a day.
Possible Side Effects
No major side effects have been reported with the use of Biotech D-Mannose. It is suggested however that pregnant women and breastfeeding mothers consult a doctor before using this product.
Price
1.76 oz of the powder can be purchased online for $31.98. This price does not include shipping or taxes and there do not appear to be any discounts for buying multiple products at once. There also doesn't seem to be any form of subscription service for regular reorder.
Guarantee
This manufacturer doesn't offer a guarantee for their product, but customers can return the product within 30 days of purchase. This is not a satisfaction guarantee because a 20% restocking fee is charged. The manufacturer might at their own discretion accept products that are returned after 30 days from purchase but then the restocking fee is 40%.
Conclusion of Our Biotech D-Mannose Review
The price of this product is quite reasonable and and the main ingredient is scientifically researched quite well. However, this product is lacking in other natural ingredients required to produce an effective and holistic urinary tract infection relief supplement. Their guarantee is also really weak and doesn't inspire any confidence because it is valid for a very short period of time and still charges a customer a restocking fee anyway. Most manufacturers who offer a decent guarantee don't charge any form of restocking fee if their customers are unsatisfied. Potential customers should perhaps look at these instead.
Top investigative research brought to you by the experts at Customer Review.