Resilient Beauty Phytoceramides Review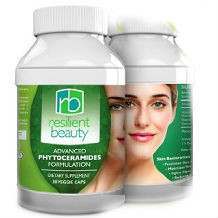 Resilient Beauty Phytoceramides is an Anti-Aging product that is made to decrease the common signs of aging. It is said to renew skin into smoothness and elasticity. Dull skin is quickly replaced with a radiant glow and even tone.  Its manufacturers also say that this powerful Phytoceramides product is supposed to promote hydration in cells in order to create healthy looking skin.
Ingredients
The ingredients for the Resilient Beauty product are:-
350 mg of Phytoceramides
60 mg of Vitamin C
5000 IU of Vitamin A
30 IU of Vitamin E
Vegetable Cellulose Capsule
400 IU of Vitamin D
Dosage
It is recommended that the consumer takes one capsule everyday. Naturally, with consistent use, you should be able to see results, although it is not stated after how long.
Side Effects
There are no side effects for the Resilient Beauty product. None have been confirmed by the manufacturer on their website. There is the warning however, about pregnant or nursing women taking the drug before consulting their physician. They shouldn't. Eighteen year old people and under are also advised to do the same.
Price
Currently, the Resilient Beauty anti-aging supplement is valued at twenty seven dollars and fifty nine cents. This is a reasonable price when you compare it with other like products out there on the market.
They have no discounts to offer for the product.
Guarantee
The manufacturers of Resilient Beauty offer a hundred percent back on the product. It would be all fine and dandy if only they said for how long. When a company is vague about the guarantee, ti makes the consumer wonder if the product is as good as they say it is. There should be no second guessing when you are in the process of shopping for a product. If there is no straightforwardness, you start to create possible theories in your head about its inadequacies and that's definitely not good.
Conclusion – Resilient Beauty Phytoceramides Review
The Resilient Beauty product is definitely one of the good ones, although its guarantee is vague. If you want a product that has clarity in everything; from guarantee to quality and effectiveness, then this is not it. Consumers want to feel that the product they are buying is safe and that the manufacturers are not in the business, for only just the profit or monetary gain. There are lots of Phytoceramides supplements out there on the market that are just like Resilient Beauty, which don't back up their products, so you have to be very particular about what you are buying.
The vagueness of the guarantee is concerning. You might end up being stuck with a product that you don't want in the first place.
It has no FDA stamp of approval. FDA guidelines ensure that the product has been manufactured in the highest of standards and that quality is not compromised. Ingesting a low quality supplement is putting your health in jeopardy.
Top investigative research brought to you by the experts at Customer Review.