LiveTru Nutrition Phytoceramides Review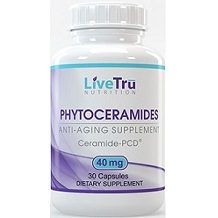 The following review will examine the facts about LiveTru Nutrition Phytoceramides. This product claims to be an anti-aging supplement that assists to fight the signs of aging with its proposed abilities to be beneficial for the overall health of your skin. The manufacturer claims this product will help with hydrating and also correcting the proper structure of your skin while additionally claiming to be able to assist repair skin damage that is caused by the sun.
Ingredients
Ceramide-PCD (Phytoceramides, Glycolipids, Glycosylceramides) – 40 mg
Vitamin A – 5000 IU
Vitamin C – 60 mg
Vitamin D – 400 IU
Vitamin E – 30 IU
Ceramides or phytoceramides are plant-based fat cells otherwise naturally found in the epidermis layer of your skin and are important for skin structure, aging causes a decrease in your natural production of ceramides, therefore, intake of supplements containing plant-based fat cells should assist skin to preserve moisture, boost elasticity and the production of collagen which reduces the appearance of wrinkles and under eye bags by encouraging firm skin. Vitamin A is important for correct function and development of your eyes, skin and immune system. Vitamin C is beneficial for many body functions such as immune function. Vitamin D is needed to regulate minerals, calcium, and phosphorus and is crucial for bone structure. Vitamin E is essential for body functions and helps slow down cell damage as an antioxidant.
Dosage
It is recommended on the manufacturer's website that you should take one capsule daily. Unfortunately, it does not seem clearly instructed if this capsule should be taken with or without meals which is unusual.
Possible Side Effects
There are cautions on the manufacturer's website that you should consult your doctor before using this dietary supplement to avoid conflict with any medications that you might be on and also to prevent the possibility of experiencing adverse effects such as allergic reactions as the product label does state that this product is manufactured in a facility uses allergens.
Price
Purchasing this supplement online will cost you $39.99 for a one month supply of 30 capsules, as stated on the manufacturer's website. It is disappointing that there are no discounted offers available.
Guarantee
The manufacturer offers a full money back guarantee that is valid for 14 days from purchase, this is only applicable if you have purchased directly from their website. It is unfortunate that the product is required to be unopened and in the original packaging, therefore, you cannot refund your purchase if you are not satisfied with the results after trying this supplement. This could give the impression that the manufacturer might not be confident with this product regarding aspects such as quality and effectiveness, it may also imply that they have failed to acknowledge the importance of customer satisfaction.
Conclusion of Our Phytoceramides Review
This anti-aging supplement is formulated with some good ingredients and it appears to be easy to use which may suggest it is passably an ok product. However, it is a very expensive option to try specifically because the manufacturer will not refund you if the product has been opened and there are no customer reviews available on their website. Based on the relevant aspects, Phytoceramides has no significantly superior qualities and so, it may be a good idea to consider other similar products that could be more suitable.
Top investigative research brought to you by the experts at Customer Review.