Natural Factors Coenzyme Q10 Review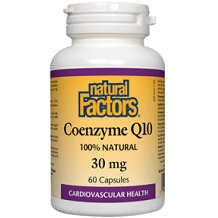 The following review is for a product called Natural Factors Coenzyme Q10. It is a dietary supplement that is designed to support cardiovascular health and to maintain a normal heart function. It is also intended to provide protection from free radical damage, maintain healthy gums and restores energy. The manufacturer claims that this product is made from the highest grade of coenzyme that is blended in rice bran oil to allow absorption.
Ingredients
The main ingredient is COQ10. This enzyme helps in the production of energy in the body cells. It is known for providing good health for the heart and ensuring that oxidation of LDL cholesterol is prevented.
According to research, the lowest measurement of CoQ10 dose for management of deficiency, heart health, age related vision loss, energy, migraine, et cetera is 100 mg. We noticed that this product is available in 30 mg, 50 mg 100 mg and 200 mg doses. The 30 mg and 50mg may be too little to be effective.
Other ingredients: Rice bran oil, natural vitamin E, soy lecithin, coconut oil, gelatin, glycerin purified water and carob.
Dosage
The recommended dose for this supplement is 1 softgel, 1 to 2 times a day or as advised by a healthcare practitioner.
Possible Side Effects
CoQ10 is known to lower blood pressure, which is a problem with people who already have low blood pressure, or those that are on diabetes medication. Therefore, it is advisable to consult your healthcare professional before using this supplement if you are diabetic. Individuals with heart problems and those who are on warfarin therapy should also consult the health care practitioner before using Natural Factors CoQ10.
Price
This product is available from various retailers online. Its price varies per retailer, quantity and doses. For instance 30 100mg softgels cost about $12.30; 60 100mg softgels cost about $16.07, and 120 100mg softgels cost $24.23.
Guarantee
We could not find any information that has to do with the manufacturer's guarantee, which is a concern as this is very important to the customer.
Conclusion of Our Natural Factors Coenzyme Review
Natural Factors Coenzyme Q10 has a possibility of being good for cardiovascular health. Coenzyme has been scientifically proven to be effective for the body's vital organs, such as the health, kidney, liver, et cetera. However, we are not confident that this particular product will work for you because of some negative qualities that it has. 30 mg and 50mg CoQ10 is very low and might not be effective enough to benefit a customer. Therefore, we do not see it necessary, especially considering that the product is also available in 100mg, and 200mg. We also found it worrying that the recommended dosage for a 30 mg is similar to the recommended dosage of 100mg. There is no indication as to who should take which milligrams, which means that some people might be taking too little while some might be overdosing. Lastly, we could not find any information on money-back guarantee. This could mean many things, but the most obvious one is that if you buy this product and don't see the benefits, you cannot return it to the manufacturer for a refund because it is not supported. This also shows that the manufacturer has little or no confidence on the effectiveness of the product. We recommend that you look for another product, as this lacks the important qualities.
Top investigative research brought to you by the experts at Customer Review.