Nativa CoQ10 Complex Review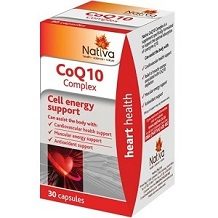 Today we review Nativa CoQ10 Complex. Combining CoQ10 with Vitamin E, this formula claims to help your body absorb this important nutrient better. Once absorbed, you will notice better heart health, better muscle health, and an increase of antioxidants in your body.
Ingredients
In every 2 capsules, there is 150 mg of CoQ10. Clinical research shows that the optimal daily dose for this nutrient is 250 mg per daily supplement. Without enough CoQ10, this supplement will not be as effective as it claims to be. Also, the best supplements of this type include BioPerine, or black pepper extract, which is the best at helping your body absorb the needed nutrients.
Dosage
The recommended dose is to take one capsule per day, with a large glass of water. Each dose should be after you have eaten a meal. It is important to note that the nutrition information was listed for every two capsules, while the actual dosing information states to only take one capsule per day. At this dosing, you will only get 75 mg of CoQ10 per day, which is less than one-third of the daily amount your body needs.
Possible Side Effects
This supplement is for use in adults and children over the age of 12. If you have a sensitivity or allergy to any of the ingredients, you should avoid using this product. Additionally, if you are on any blood thinning medications, like Warfarin, you should be warned that this product could thin your blood further. If you do take medications like this, speak with your doctor before adding this to your daily regimen.
Price
Each bottle contains only 30 capsules and costs $12.21. When we tried to check shipping costs, the website did say that there are no available shipping options for the United States, but instead, you could contact the company for assistance.
Guarantee
After a thorough search of the company's website, we found no information regarding a money back guarantee or a return policy. While they do offer a Contact Us page with phone numbers and an email address, even if they will offer some sort of refund, it may not be available to customers in the US. With the issues of shipping, if you find a way to get this product here, the company may not be willing to take it back, or the return shipping fees may be more than the actual purchase price of the product.
Conclusion of Our Nativa CoQ10 Complex Review
There are a few things we liked about this product. The daily dose is one, easy to remember capsule. With a lower price than its competitors, this could also be a better deal than other similar supplements.
Unfortunately, we have many concerns about this supplement. There is not enough CoQ10 in each dose to offer any real support for your heart or muscles. The company even tries to make customers think there is more of the nutrient per serving than there is by listing the nutrition facts for 2 capsules when the real dose is only one capsule daily. Next, there is no available shipping to the United States, making it difficult to actually purchase this product. Lastly, we found no information about a money back guarantee. For these reasons, we cannot recommend this supplement to help with your heart health.
Top investigative research brought to you by the experts at Customer Review.