Dr Tobias Garcinia Cambogia Review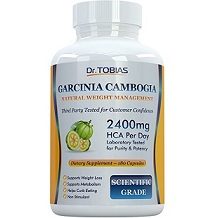 Garcinia Cambogia made by Dr Tobias is the subject of this product review. This product is designed to support weight loss and curb excessive eating for both men and women. The manufacturer claims that this product provides an all natural way to support losing weight safely and also helps to stabilize metabolic rates and keep blood sugar levels more balanced.
Ingredients
Each serving of 2 capsules contains:
1600 mg Garcia Cambogia extract (50% HCA)
Calcium (Garcia Cambogia extract) 272 mg
Other ingredients:
Rice flour
Gelatin
Vegetable magnesium stearate
Silica
Calcium and potassium help the body to absorb garcia more effectively. The 1600 mg dosage of HCA is high and should make in impact when combined with sensible eating habits and increased activity. The supplement contains gelatin as a secondary ingredient and renders this product unsuitable for vegetarians and vegans.
Dosage
Take 2 capsules daily on an empty stomach, 1 hour before meals, with a big glass of water.
Possible Side Effects
Consult your doctor before using this product if you are pregnant, nursing, or under 18 years of age. It is recommended that you build up your dosage gradually from 2 capsules per day because some people have reported digestive discomfort when taking the full dosage of 6 capsules per day right away. Do not exceed the maximum dosage of 6 capsules per day.
Price
The product is not available on the manufacturer's website instead a link takes you directly to Amazon where it is available for $31.75 with free shipping. One bottle of 180 capsules will last you one month if you take the maximum 6 tablets per day. There is no bulk buying discount available on the manufacturer's website, but there is a 10% discount for first time customers when submitting an email address but since you can't buy directly from the manufacturer's website it is unclear how you would utilize this discount code.
Guarantee
The company says that it provides a 100% money back guarantee. In fact there were no specific details of this guarantee and anyway you can't buy this product on the company website. If buying from Amazon, there is a standard 30 day money back guarantee.
Conclusion of Our Dr Tobias Garcinia Cambogia Review 
Among the things that we liked about Dr Tobias Garcinia Camboga, are that the product is third-party tested for purity and ingredient accuracy. It is made according to FDA standards in a GMP certified facility. There is a 10% discount available for new customers on the manufacturer's website. The less positive aspects of this supplement are that it does not come with a bulk buying discount and will be therefore expensive to use in the long run. It contains gelatin as a secondary ingredient and renders this product unsuitable for vegetarians and vegans. There is no guarantee offered by the manufacturer which seems to indicate a lack of confidence from the perspective of the manufacturer. Although some reviewers have said positive things about this product's ability to suppress appetite, it isn't clear how effective or useful it is for helping you lose weight especially for people who are already controlling their diet and exercising anyway. We suggest that you look for an alternative Garcinia supplement from a company that supplies a long and reliable return policy and one that provides bulk buying incentives to make it better value for money.
Top investigative research brought to you by the experts at Customer Review.