Garcinia Maxx Plus Review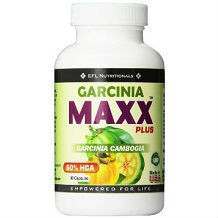 EFL Nutritionals Garcinia Maxx Plus bottle it does not grab your attention, and will most likely be drawn to all the end results this product has to offer. The produce Garcinia Maxx Plus claims to offer the following benefits when using their supplement:
The ability to curb your appetite,
Reduce your caloric intake,
Increase lean muscle mass,
Lowering your body weight,
Increasing serotonin levels,
And decreasing cholesterol.
With all these wonderful claims, it seems this ought to be a great product. Yet, if these claims are true, why has no one reviewed this product at all? To answer this question, we decided to take a closer look at the ingredients of this supplement.
Ingredients
When you examine this product, you will discover the following ingredients are included in one capsule:
Garcinia Cambogia – 500 mg containing the 60% HCA (Hydroxycitric Acid)
Calcium – 25mg – although fairly low dosage, this item actually decreases the efficiency of the fat burning component, HCA.
Potassium – 25mg
Chromium – 100 mcg
Gelatin – amount not specified
Dosage
Customers using this product should take 1-2 capsules three times a day, at least 30 minutes before a meal. This averages out to 3-6 capsules per day, a rather high consumption within a 24 hour period.
Side Effects
No side effects known, as there has been no results from clients who have bought this supplement.
Price
On the manufacturer's website, Garcinia Maxx can be bought for $19.99. This fee includes one bottle includes 90 capsules. When calculated with dosage to be taken a day, this is equivalent to a 15-30 day supply. There is no information available that customers can receive a discount if more bottles are bought simultaneously.
Guarantee
When investigating this product, no guarantee could be found in any form. The lack of guarantee is incredibly important to customers and they should be concerned about it as there is no safety net for void results.
Conclusion – Garcinia Maxx Plus Review
When examining the information provided above, there have been several elements discovered which should raise red flags to those who are considering this product. The first concern is the dosage. It has been tested that a dosage of 1600 mg or more of Garcinia Cambogia generates the highest results. This being said, users would have to take the highest dosage labelled on the bottle to obtain the most useful dosage required for you to lose weight.
Those who are only taking 3 capsules a day would only receive 1500 mg. Secondly, our next concern is the fact that there is no guarantee. Guarantees show a company's assurance in their product when being used. Because of this, we have to start wondering how effective Maxx Plus really is. The third problem that can be seen is the very high quantity of pills that you must take. Consuming these high dosages, you will have to consume 6 pills per day. This is considered a lot as people do not like having to take so much pills all throughout the day.
Top investigative research brought to you by the experts at Customer Review.