The Vitamin Shoppe Thyroid Complex Review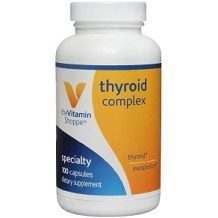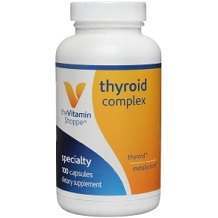 In this review, we will present to you all necessary information about the product called Thyroid Complex so you'll have an easier time deciding whether this product is worth a try or not. Thyroid Complex is a dietary supplement manufactured and sold by The Vitamin Shoppe.
The manufacturer's website does not provide much information about what this product does besides for the fact that it may help to promote a healthy thyroid and metabolism. The product's website also stated that this product does not contain any soy, dairy, and nuts.
Ingredients
Thiamine (Vitamin B1) – 10mg
Riboflavin (Vitamin B2) – 10mg
Vitamin B6 – 10mg
Vitamin B12 – 25mcg
Iodine (From Atlantic Kelp) – 150mcg
Magnesium – 100mg
Zinc – 3mg
Selenium – 70mcg
Copper – 150mcg
Manganese – 3mg
Molybdenum – 150mcg
L-Tyrosine – 150mg
Multi-Gland Complex – (From Liver, Lung, Pancreas, Heart, Kidney, Spleen, Brain) – 35mg
The B-vitamins are vital to normal thyroid function. To put it simply, they ensure that our thyroid is not over performing or under performing. Iodine, selenium, copper, and L-tyrosine also ensure that the thyroid produces the right amount and right quality of the thyroid hormones namely, thyroxine and triiodothyronine. Zinc, on the other hand, is an important mineral that helps keep the size of our organs, including the thyroid, in check.  The multi-gland complex is a mixture of different substances that are normally taken from a cow, sheep or pig's glands. Research about the ingredients found in this complex and their efficacy is not well established.
Dosage
An individual should take one to three capsules a day, preferably one with each meal. By following this dosage, an individual might fall 50 mg short of the L-tyrosine daily recommended intake which is generally 500 mg for most supplements or other related products. It is not stated when you should take one capsule or when you should take three. Three capsules a day may result in you consuming too much iodine.
Possible Side Effects
Pregnant and nursing women, and those taking any medication or who have any medical conditions should contact their physician before taking this product. This item is not recommended for children. If you suffer from an overactive thyroid, you should speak to your doctor before taking this supplement.
Price
You can purchase this product from the manufacturer's website for $10.59 per bottle containing 100 capsules. As of the time of this writing, there were no discounts available except for a 10% reduction if you sign up for auto-shipping. You can take advantage of free shipping if your purchase reaches $25 or more.
Guarantee
Unsatisfied buyers who purchased from the manufacturer's website may return their purchased product within 30 days.  However, it seems that the manufacturer is only willing to accept unopened bottles.
Conclusion of Our The Vitamin Shoppe Thyroid Complex Review
The product is cheaply priced compared to other similar items out there. However, this may also indicate the quality of the product. It's also a good thing that the product does not contain any soy, dairy, and nuts. Be that as it may, the product seems to contain an ingredient (Multi Gland Complex) that needs further scientific research to back it up for both safety and effectiveness. Furthermore, the dosage instructions are not very clear and quantities of very important ingredients may fall short or may be too high. This may affect the effectiveness and the safety of the product. There are other thyroid supplements on the market with clearer information which may be a better choice.
Top investigative research brought to you by the experts at Customer Review.