Natural Factors Thyroid Health Formula Review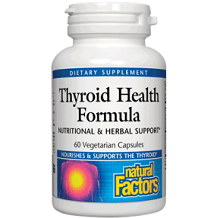 Our thyroid is one of the major endocrine glands that is responsible for proper body metabolism. It regulates how the body should produce or utilize energy in order for us to do our day to day activities with ease. Like any other organ, our thyroid must receive proper care in order for it to do its vital tasks and one way to pamper it is by nourishing it with dietary supplements.
In this article, we are going to discuss the product called Thyroid Health Formula by Natural Factors. According to the product's website, this dietary supplement contains important substances that support our thyroid. Aside from that,  there's really not much information that we could find about what this product does and how it works. The product also claims to contain no artificial preservatives, colors, sweeteners, gluten, dairy, soy, wheat or yeast.
Ingredients
Pantothenic Acid (as calcium pantothenate)  – 100 mg
Iodine (as potassium iodide) – 100 mcg
Copper (as copper gluconate) – 0.5 mg
Manganese (as manganese citrate) – 0.5 mg
L-Tyrosine – 500 mg
Ashwagandha (standardized to contain 1.5% withanolides) – 150 mg
Guggul (standardized to contain 2.5% guggulsterones) – 120 mg
The product contains a mixture of different substances that promote an optimal thyroid function. For example, iodine is the major substance used to create two important hormones secreted by the thyroid gland (Thyroxine, Triiodotyrodine). These hormones affect almost all body processes including growth, body temperature, heart rate and of course metabolism. L-Tyrosine, on the other hand, is a type of amino acid that assists your body to make hormones, including thyroid hormones. Pantothenic acid helps our body to utilize carbohydrates, fats, and proteins properly. Other inactive ingredients include:
Vegetarian Capsule (Carbohydrate Gum [Cellulose], purified water)
Microcrystalline Cellulose
Magnesium Stearate (Vegetable Grade)
Dosage
According to the product's label, two capsules should be taken 1-2 times per day or as directed by a physician. The conditions for when you should take two capsules a day and when you should take four are not specified.
Possible Side Effects
The product's website didn't mention any possible side effects, however, our research tells us that people with long term headaches and stomachaches should take precaution when taking products with L-Tyrosine because the supplement might trigger these conditions.
Price
The product's website doesn't sell this product directly. You can purchase this product from different online retail stores such as Amazon and iHerb for $11.74 and $10.47 per bottle respectively. Discounts and promos might vary depending on where you purchase your item. One bottle contains 60 capsules, so at two capsules a day, this should be a one-month supply. However, if you take more than two capsules a day, you will need to replenish your stock more often.
Guarantee
Because this product is sold by different retail stores, the guarantee and return policy will vary depend on where you purchase your item.
Conclusion of Natural Factors Thyroid Health Formula Review
The product comes with a cheap price considering that your $12 could get you a bottle containing 60 capsules. The product also doesn't contain any artificial ingredients that might cause some harm. However, we realized that the product seems to be missing some other important ingredients in keeping the thyroid healthy such as selenium and molybdenum. It is also unclear whether you should take this product with or without a meal, or when is the best time you should take this product as that information is missing on the product's label.
Top investigative research brought to you by the experts at Customer Review.