NOW Thyroid Energy Review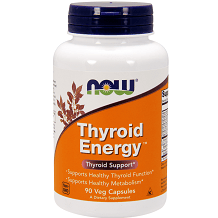 The thyroid gland, though small in size, is one of the most important organs in our body. It is responsible for almost all cellular processes, metabolism, and even regulates body weight. In this review, we will examine the product Thyroid Energy by NOW Foods which claims to provide our thyroid with much-needed support.
Thyroid Energy claims to be a complete nutritional supplement to help support the thyroid gland. It also stated that it contains no soy, nuts, sugar, GMO products, dairy, eggs, or gluten.
Ingredients
Vitamin B6 (from Pyridoxine HCl) – 2 mg
Folate (as Folic Acid) – 400 mcg
Vitamin B12 (as Methylcobalamin) – 60 mcg
Iodine (from Potassium Iodide) – 225 mcg
Zinc (from L-OptiZinc – Zinc L-Methionine Complex) – 25 mg
Selenium (from L-Selenomethionine) – 50 mcg
Copper (from Copper Amino Acid Chelate) – 1 mg
L-Tyrosine (Free-Form) – 1,000 mg
Guggul (Commiphora Mukul) (Gum Resin) – 75 mg
Ashwagandha (Withania somnifera) – 50 mg
There's nothing really special when it comes to the ingredients found in this product. The different mixture of herbs, vitamins, and minerals offer important substances that promote a healthy thyroid function. Vitamin B6 and B12 are two important vitamins that help regulate energy levels in the body. Selenium, zinc, and L-tyrosine ensure that the thyroid produces high-quality hormones at optimal levels that are responsible for many important bodily processes. Ayurvedic herbs, Ashwagandha and Guggul, on the other hand, have been shown to help lower risks for inflammation. Iodine is an important ingredient for the manufacturing of the thyroid hormones. The product seems to lack other important ingredients that may help the thyroid gland such as molybdenum and manganese. Other ingredients include:
Cellulose (capsule)
Cellulose Powder
Magnesium Stearate (vegetable source)
Silica
Dosage
According to the product's website, this dietary supplement should be taken twice daily, preferably in two separate doses. It is not indicated if the product should be taken with food or not.
Possible Side Effects
This product is not intended for children below 18 years of age. Pregnant or nursing women, as wells as those who are taking any kinds of medication or have a medical condition, should consult a doctor before taking this product. This product might also cause some temporary gastrointestinal upset. Discontinue use if GI symptoms persist.
Price
This product is available for an online purchase from the manufacturer's website for $19.99 per bottle containing 90 capsules or $35.99 per bottle containing 180 capsules. The manufacturer's website also provides a tool to find other stores where you can buy the product.
Guarantee
New or unopened bottles purchased from the manufacturer's website can be returned within 60 days for a full refund minus any shipping fees. However, the manufacturer also states that you can't return the product after 120 days. The manufacturer also states that empty or less than half-full bottles will only be accepted under reasonable circumstances, but they do not state what these circumstances are.
Conclusion of Our NOW Thyroid Energy Review
The product has a very reasonable price and it seems to have an appropriate dosage. Still, the fact that the product might cause some stomach upset is bad news, especially for those with a sensitive stomach. The product also seems to lack some important ingredients that might offer help in boosting the thyroid's health. Furthermore, the details surrounding the return policy are not very clear.
Top investigative research brought to you by the experts at Customer Review.