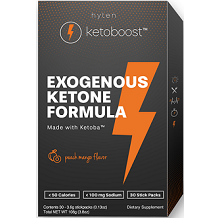 The following is our review of Hyten KetoBoost. It claims to be a fat-burning formula that promotes ketosis and ketogenesis. It is for energy, athletic performance, and anti aging. It should also be able to suppress your appetite, improve your focus, increase stamina, while also promoting muscle preservation. Continue reading for our full review.
Ingredients
Vitamin C – 100 mg
Thiamin – 1 mg
Riboflavin – 1 mg
Niacin – 1 mg
Vitamin B12 – 250 mg
Calcium – 36 mg
Zinc – 3 mg
Selenium – 15 mcg
Copper – 0.5 mg
Manganese – 0.5 mg
Chromium – 33 mg
Molybdenum – 15 mcg
Potassium – 53 mg
Proprietary Hyten Energy Blend – Ketoba, green tea leaf extract, 50% caffeine – 1420 mg
Boron – 175 mcg
These ingredients are meant to promote focus, mental clarity, and energy without crash or jitters. It is a fat-burning formula that assists with appetite suppression and increase electrolyte absorption. It instantly dissolves into clear liquid. Technology makes it a delicious light thirst quenching beverage. It contains no lactose of galactose. The ingredients are also supposed to support cardiovascular health, healthy development, bone health, and fight against diabetes.
Dosage
It is recommended to take 1 pouch containing 0.13 ounces and mix it with water. We were unable to find any details on how many times a day you should do this and at what time of day. from reading the website, it seems like you can take it before a workout, but all other information is unclear.
Possible Side Effects
There were no side effects listed on the manufacturer's website. Please speak with a healthcare professional before adding any new supplements to your diet, especially if you are pregnant, nursing, under the age 18, or have any know medical conditions.
Price
Hyten KetoBoost is sold for $70 on the manufacturer's website. For a product that will most likely only last you a month, this is extremely expensive.
Guarantee
This product is backed by a 30-day satisfaction guarantee for the initial order purchase. All products in excess of one unit must be returned to the company in resalable condition in order to be eligible for a refund. You must contact customer service within 30 days of receiving the initial order to request a refund. All products purchased outside the initial order may be returned up to 90 days for a full refund. Order returned after 30 days will be charged a 15% restocking fee. If you return it after 60 days, you will be charged a 25% restocking fee. All returned items need to be unopened and in resalable condition.
Conclusion of Our Hyten KetoBoost Review
There are a couple of positive things about Hyten KetoBoost. It is filled with effective amounts of ingredients that should work in helping the body reach ketosis and give an extra boost to work out. There are also many real people with real results that gave testimonials on their website. There were a couple of negatives as well. This product is extremely expensive. You will most likely need to use it long-term to continue seeing results, so it will end up costing you a lot. The guarantee for this product is also pretty weak, since it doesn't allow customers to actually try to product to see if it works and then return it. We feel you can find a more affordable product elsewhere.
Top investigative research brought to you by the experts at Customer Review.