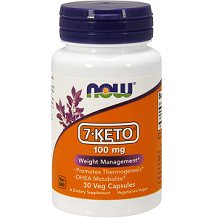 The following is our review of Now 7-Keto. It is a dietary supplement that promotes thermogenesis, which is the regulation of thermogenic enzymes in the body. This should help support resting metabolic rate. As you age, your enhanced resting metabolic rate will decline. By the age of 40, your body produces only half as much 7-keto as it used to. This product should also help support healthy weight loss. Continue reading for our full review.
Ingredients
This product contains 100 mg of 7-KETO (DHEA Acetate-7-one). It should support 3 times more weight loss than diet and exercise alone by activating key thermogenic enzymes and boosting metabolism by up to 5.4%. This product is also made with rice Flour, cellulose (capsule), magnesium stearate (vegetable source) and silica. It is not manufactured with yeast, wheat, gluten, soy, milk, egg, fish, shellfish or tree nut ingredients, but it was produced in a GMP facility that processes other ingredients containing these allergens.
Dosage
It is recommended to take 1 capsule 2 times daily, preferably with food.
Possible Side Effects
There were no possible side effects listed on the manufacturer's website. For adults only. Consult physician if pregnant/nursing, taking medication, or have a medical condition. Keep out of reach of children.
Price
Now 7-Keto can be purchased in different sized bottles directly from the manufacturer's website. You can buy a bottle of 30 vegetable capsules for $21.99, a bottle of 60 vegetable capsules for $39.99, and a bottle of 120 vegetable capsules for $69.99. This product is definitely more on the expensive side.
Guarantee
This product is backed by a 60-day money-back guarantee. The product has to be new, unopened, and purchased directly from the manufacturer to qualify for a full refund minus any shipping fees. A 15% restocking fee may be applied to some orders. Returns will not be accepted after 120 days. Any damaged or wrongly-shipped products will be refunded with shipping costs upon being returned to them. Empty bottles or bottles less than half full will not be credited unless there are reasonable circumstances. This guarantee doesn't really give customers the confidence that they can try the product and get a refund because each case will vary. It does seem you will be able to get a partial refund if you try the product a little, but it may not give you much of a chance to see results.
Conclusion of Our Now 7-Keto Review
There are a couple of positive things about Now 7-Keto. This product is vegan and there were no possible side effects listed on the website. It is also non-GMO and gluten free. There were a couple of negatives as well. This product is a bit on the expensive side. Even though it is backed by a 60-day guarantee, it leaves a bit of grey area of what will qualify for a refund and what won't. It seems you can try the product for a short amount of time and then receive a partial refund, but it is unclear. We feel you will be better off finding a better product elsewhere.
Top investigative research brought to you by the experts at Customer Review.