Sports Research Keto Plus Review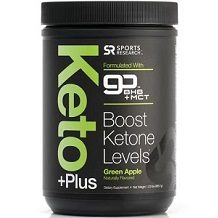 Today we are reviewing a product called Sports Research Keto Plus. The maker of this product claims that it will boost your ketone levels to provide your body with more energy when needed. They also claim that Keto Plus will provide a sustained supply of carbohydrate free energy, will boost ketone levels without fasting, promotes mental clarity and focus. This product is directed for use by athletes or for people engaging in intense physical activity who need a boost in energy.
Ingredients
Beta-Hydroxybutyrate (goBHB)
Medium Chain Triglycerides (goMCT)
Citric Acid
Calcium Silicate
Malic Acid
Silica
Fruit & Vegetable Juice (color)
Natural Flavor
Monk Fruit
It was unclear to us from this list of ingredients why these were added to this supplement and how they combine together to boost energy levels. There was very little information on the company website. Sports Research Keto Plus comes in various naturally flavored flavors including; green apple, cherry limeade, fruit punch, and watermelon, and raspberry lemonade.
Dosage
Mix each serving (1 Scoop) in 8-10 oz of water, or use in a smoothie. First time users can take half a scoop per day. The serving size can be increased over time to the recommended serving size of 1 to 2 scoops per day.
Possible Side Effects
Consult with your healthcare professional before using this product especially if pregnant, nursing, taking medication, or have an existing medical condition. Do not exceed 2 scoops per day.
Price
You can purchase Sports Research Keto Plus directly from the manufacturer's website. One bottle containing 20 scoops costs $50.00. Shipping is free on all orders. This is only a 1 month's supply. At the higher recommended dose of 2 scoops per day, one bottle will only last 10 days. If you enter your email address, you can get a 10% discount on your next purchase. There are no bulk buying discounts offered by the manufacturer.
Guarantee
The manufacturer offers a 90-day refund if you are dissatisfied with your purchase. Valid for U.S. customers only who purchased their product from the list of online retail stores listed on the manufacturer's website. This guarantee is also only valid for first time purchases. The manufacturer does not state whether they will accept opened bottles of the product, or if return shipping is included or not.
Conclusion of Our Sports Research Keto Plus Review
In summarizing our review of Sports Research Keto Plus, we have some positive and some less positive comments. The powder comes in an easy to use mix powder with a handy measuring scoop. It comes in a number of different flavors. There is free shipping on all orders, and a 10% discount for first time buyers when supplying your email address. We also liked that the return policy is good for 90 days. On the negative side, the product is very costly at $50 for a one month supply, and there is no bulk buying discount. The guarantee although good for 90 days, has lots of rules and stipulations and does not seem to permit return of opened bottles. If you are looking for a ketone boosting supplement we suggest that you find one that is better value for money, has a better return policy, and one that offers a bulk buying discount.
Top investigative research brought to you by the experts at Customer Review.