FoodState MegaFood Thyroid Strength Review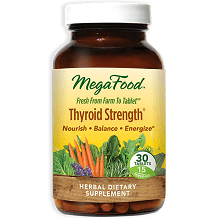 This is our review of Thyroid Strength, a thyroid health support supplement made by FoodState Inc. According to the company it helps to promote the function of your thyroid and enhance metabolic activity. It is also said to help to nourish, balance and energize users, featuring a blend of what are called "FoodState Nutrients". With many similar products available on the market, what does this one offer to make it look convincing? You are welcome to read our FoodState MegaFood Thyroid Strength review below to learn more.
Ingredients
The formula features the ingredients below. The quantities of each is what you get per two-capsule serving.
FoodState Nutrients:
Holy basil leaf extract – 250 mg
Sensoril Ashwangandha (Withania somnifera) root and leaf extract – 250 mg
Coleus forskohlii root extract – 150 mg
Organic kelp powder – 125 mg
The other supporting ingredients in Thyroid Strength are plant cellulose, vegetable lubricant, Guar gum, and silica.
The FoodState Nutrients are said to combine with L-Tyrosine to provide nourishment needed for a healthy thyroid. Sensoril Ashwangandha and Coleus forskohlii also assist in promoting thyroid health and maintaining healthy cholesterol levels. Holy basil keeps fatigue at bay while enhancing overall well-being.
Dosage
The suggested dose is two tablets per day. You are free to take the pills at any time of the day, even when you have not eaten anything. A reason for this is that the constituent FoodState Nutrients are gentle on the body and are digested easily.
Possible Side Effects
Headaches and slight fatigue may result from the use of MegaFood Thyroid Strength, based on customer feedback. People with sensitivity to any of the ingredients should be prepared for side effects as well. Unlike other manufacturers, there was no indication from FoodState that pregnant or nursing women, or those under 18, shouldn't use this product. Still, for those people, we suggest discussing this and any supplement with your doctor.
Price
We couldn't find price information on the official product website. You can purchase it in MegaFood stores or through third-party retailers. We were able to find out the 60-tablet bottles selling for between $30 and $36 online. The 90-tablet bottle was going for roughly $40. You can also get the supplement in a 30-count package.
Guarantee
We did not find information on a money-back guarantee from the manufacturer of Thyroid Strength. You may be able to request a return/refund from the retailer from which you purchase this item, but best to check on that before you buy.
Conclusion of Our FoodState MegaFood Thyroid Strength Review
This is a decent supplement for promoting thyroid health. The manufacturer appears to be a reputable company and Amazon customer ratings were notably positive overall at the time of our review. We also like the fact that you can take it on an empty stomach. As for the downsides, one is its lack of a money back guarantee and another, potentially, are side effects from usage. The ingredient Ashwangandha may interact with certain drugs. It's also not the least expensive of thyroid supplements.
Top investigative research brought to you by the experts at Customer Review.