Flexitol Heel Balm Review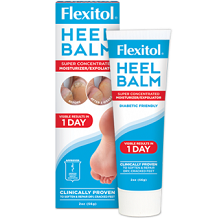 Today we review Flexitol Heel Balm. As a self proclaimed leader in most English speaking countries, this lotion claims to help moisturize and exfoliate the skin on your feet.Formulated with vitamins, minerals, and special oils, this cream will work deep in the skin to help heal your dry, cracked feet.
Ingredients
Water
Urea
Lanolin
Cetearyl Alcohol
Mineral Oil
Glyceryl Stearate
Decyl Oleate
PEG-20 Stearate
Paraffin
Phenoxyethanol
Sodium PCA
Butyrospermum Parkii (Shea Butter)
Allantoin
Centipeda Cunninghamii Extract
Glycolic Acid
Panthenol
Tocopheryl Acetate
Benzyl Alcohol
Melaleuca Alternifolia (Tea Tree) Oil
Arginine
Fragrance
This ingredient list is incredibly long. Unfortunately, if you have cracked or scaly feet from Athlete's Foot, there are no ingredients included in this cream to help kill the fungus that causes this type of infection. This type of fungus is usually caused from too much moisture around your feet, so this lotion could even make your athlete's foot worse.
Dosage
For dry, cracked feet, you should begin applying this cream twice daily, once in the morning, and again at night. Use a little more lotion on especially dry or thickened areas of skin. Once your feet are back to their normal, healthy appearance, you can continue using this lotion once daily to help maintain the look you want.
Possible Side Effects
After thorough searching of the manufacturer's website, we found no listed side effects or warnings for this product. This is concerning, as even the safest supplements and lotions have basic warnings, like not ingesting the lotion internally or when you should consult with a doctor or other healthcare professional. Without any type of warning, it seems that the company is trying to hide something.
Price
This manufacturer does not sell their products directly to their consumers. Instead, they either send you to a link to see where to purchase this product in a store, or they send you directly to an Amazon page to make your purchase online. According to Amazon, the manufacturer's suggested retail price for this product is $14.29, but it is currently on sale for only $9.23. There is also free shipping on orders over $25.
Guarantee
Like most companies that do not deal directly with their customers, there was no information at all regarding a money back guarantee or a return policy listed on their website. Without this information blatantly listed, it shows the manufacturer does not fully stand behind their product. If you find yourself unhappy with this product, you will need to consult the return policy of the third party retailer in which you bought the lotion from and hope that they will allow you to make a return of an open product.
Conclusion of Our Flexitol Heel Balm Review
There are a few things we liked about Flexitol Heel Balm. This lotion only needs to be applied twice per day, and can be used once per day for prevention of dry cracked feet. The price is also lower than other similar lotions we have researched.
Unfortunately, we had many concerns regarding this product. If you are looking for something to heal your athlete's foot, there are no ingredients in this formula to target and kill this type of fungus. Next, with no listed warnings, it makes this cream seem very suspicious. Lastly, there was no money back guarantee. For these reasons, we cannot recommend this lotion to help cure your athlete's foot.
Top investigative research brought to you by the experts at Customer Review.