Tineacide Antifungal Foot & Shoe Spray Review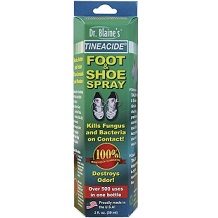 In this review we will focus on a product targeted at athlete's foot called, Tineacide Antifungal Foot & Shoe Spray. The manufacturer of this product claims that it can destroy 99.9% of foot fungus and bacteria on contact. Furthermore, it claims to help prevent toenail fungus, fungal infections, and re-infections, in addition to athlete's foot. Keep on reading to see what Tineacide Antifungal Foot & Shoe Spray can do and if it is an effective spray for you to try.
Ingredients
The manufacturer claims that Undecylenic Acid is the main active ingredient in this formula. The ingredients found in Tineacide Antifungal Foot & Shoe Spray help to disinfect and deodorize the affected area by penetrating deep, unlike powders and aerosols, for a longer-lasting protection. However, the manufacturer does not provide the ingredients list and also not the percentage of the active ingredient. For it to be effective, it must contain 25% Undecylenic Acid.
Dosage
After studying the manufacturer's website and also the label of the product, we were unable to find any evidence of how one must use this product. Lack of instructions will confuse first time users and incorrect use may lead to the product not working to its best abilities. Too little might render the product ineffective and too much might agitate the affected area.
Possible Side Effects
No possible side effects have been mentioned by the manufacturer. There are also no warnings found.
Price
A bottle of 2 fluid oz Tineacide Antifungal Foot & Shoe Spray will cost $19.99. Customers can purchase the product online from the manufacturer's website. It can also be purchased from various online stores which are nationwide, including Walgreens and Walmart. The manufacturer does not offer discount or bulk packages for purchase.
Guarantee
The return policy offered by the manufacturer is very weak. If you are not satisfied with the product, you have to contact the manufacturer for an authorization form and only one product may be returned for a refund. Shipping fees are excluded. First time customers will not be able to test the product and return it for a refund as there are no specifications as to the state the product must be in. One does not know if it must be returned sealed, or if it may be opened and used.
Conclusion of Our Tineacide Antifungal Foot & Shoe Spray Review
After this review, we found a few things we liked about Tineacide Antifungal Foot & Shoe Spray. It can be purchased from more than one online store.
However, there are many more concerns that we have about the product that need to be addressed. The manufacturer's website is not professional as it lacks vital information that a customer would like to know about the product. With this said, the manufacturer does not offer their customers an ingredients list or instructions on how to use the product. This could lead to many complications. Furthermore, for the product to be effective, it needs to contain 25% Undecylenic Acid. The product contains this substance, however, it does not indicate the concentration thereof. Finally, the manufacturer also lacks the presence of a money-back guarantee. These concerns lead us to believe that Tineacide Antifungal Foot & Shoe Spray is not an effective treatment for athlete's foot.
Top investigative research brought to you by the experts at Customer Review.