Premium Certified Athlete's Foot MD Review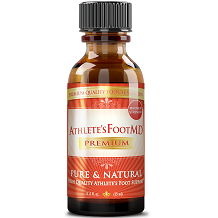 The following review of Athlete's Foot MD provides detailed information on this product and its ability to yield superior relief to symptoms associated with athlete's foot. Athlete's foot is a highly contagious infection that is triggered by fungal growth on the skin of the foot. The manufacturer of Athlete's Foot MD claims that this product is an all-natural ointment containing key ingredients proven to fight fungal infection. Furthermore, the formulation of this product adheres to strict cGMP guidelines which ensure it is of the highest quality.
Ingredients
Undecylenic Acid
Mineral Oil
Sweet Almond Oil
Organic Flaxseed Oil
Tea Tree Oil
Aloe Vera Leaf Extract
Canola Oil
Tocopheryl Acetate
Walnut Oil
Menthol
Camphor Oil
Clove Bud Oil
Jojoba Oil
Chia Oil
Lemongrass Oil
Lavender Oil
Manuka Oil
This impressive list of 17 key natural ingredients is argued to fight the spread of fungal infection and provide total relief from symptoms associated with athlete's foot. This claim is backed by a 4-week clinical study in which the formula provided largely positive results. The main active ingredient in this product, Undecylenic Acid, works to stop the spread of fungal infections and is a powerful substance for preventing itching, burning, and dryness of the foot. The additional ingredients found in this formula provide several supportive benefits which include anti-inflammation, soothing and softening, and anti-bacterial properties. The formulation of this product follows strict cGMP guidelines and is third-party tested to ensure that customers receive a product that is of superior quality.
Dosage
The manufacturer provides clear instructions on how to use this product for best results. They suggest using the applicator brush to apply the product to the affected area three (3) times daily, in the morning, afternoon, and evening. Each application provides a dosage of 25% USP Undecylenic Acid which is the most potent concentration among similar products on the market.
Possible Side Effects
There are no noted negative side effects associated with using this product, however, the manufacturer suggests that you do not exceed the recommended daily dosage. The ingredients in this product are 100% natural and there are no fillers, binders, or preservatives.
Price
This product can be purchased online. A single bottle is sold for $48. There are several discounts and bulk-buy deals which provide a range of purchasing options. The top-selling special is a 'Buy 3 Get 3 Free' deal priced at $138. This saves you $270 which is a substantial amount. This 6 month supply ensures that the long-term use of this product is extremely cost-effective. Shipping is discreet and secure online shopping facilities protect you from ID theft.
Guarantee
The manufacturer offers a 90-day money-back guarantee on this product. This applies to both opened and unopened products. This indicates that the manufacturer is confident in the product's ability to deliver on claims. This guarantee provides ample time for users to test the product. Their customer support team is readily available to answer any of your concerns.
Conclusion of Our Athlete's Foot MD Review
Upon further analysis of this product, we have found it to be an effective remedy for athlete's foot. The formula provides a potent concentration of key ingredients that are known to alleviate symptoms such as itching, burning, and dryness as well as prevent the spread of fungal infection. The manufacturer supports the efficacy of this product with a clear and lengthy guarantee. Furthermore, long-term use of this product is affordable. Therefore, we highly recommend this product as an effective ointment to fight athlete's foot.
Top investigative research brought to you by the experts at Customer Review.