Tinactin Athlete's Foot Cream Review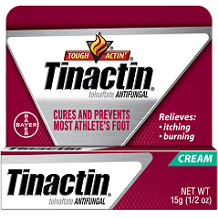 Athlete's foot is characterized by red, itchy and scaly skin on the feet which commonly starts between the toes. Ringworm, from the same fungus, is a ring-shaped infection on the surface of the skin. It is caused by a fungus and can spread easily, not only to other parts of the body, but to other people. Athlete's foot and ringworm can be obtained by coming into contact with the fungus on contaminated items such as clothing and surfaces, especially in public areas. How then do you cure athlete's foot and ringworm once you have it? Perhaps the product Tinactin Athlete's Foot Cream can work for you. This product claims to not only cure and prevent the spread of athlete's foot, but also ringworm and provide relief from symptoms such as burning and itching. The product is a topical cream that does not easily rub off, allowing it time to penetrate into the skin and target the fungi. For further information on Tinactin Athlete's Foot cream, read our review below.
Ingredients
Tolnaftate 1%
Ceteth-20
Cetostearyl alcohol
Chlorocresol
Mineral Oil
Purified water
Sodium Phosphate monobasic
White petrolatum
Tolnaftate 1% is the active ingredient. This ingredient works by preventing the fungi cells from growing further, and seems to be effective, provided it is used as directed. There are numerous other active ingredients used to prevent and cure athlete's foot and we recommend doing research with regards to the most effective one.
Dosage
The product instructs the user to first wash the infected area and allow it to dry properly. A thin layer of the cream should then be applied to the area. It should be applied twice daily (morning and night). The product should be used daily for 4 weeks. Consult a physician should the condition persist.
Possible Side Effects
This product lists no specific side effects, but says to stop use if an irritation occurs. The cream is to be used topically only, avoiding all contact with eyes.
Price
Tinactin Athlete's Foot Cream is available on numerous third-party websites, such as Amazon, for $5.79. The product is sold in 0.5oz tubes. A coupon is available to print from the manufacturer's website ensuring $1 dollar off your purchase.
Guarantee
Unfortunately, the manufacturer does not provide a money-back guarantee if the product is ineffective.
Conclusion of Our Tinactin Athlete's Foot Cream Review
Tinactin Athlete's Foot Cream has numerous positive reviews and has a reputable active ingredient to help eliminate foot fungi and ringworm. We do, however, feel that because athlete's foot and ringworm can be so persistent, it is important to use the most potent active ingredients possible, which will also maintain your skin's integrity. We suggest doing thorough research of all the products out there and to ensure you buy one that will best work for you. Tinactin also does not provide a money back guarantee, which allows for some margin of doubt in the effectivity of the product.
Top investigative research brought to you by the experts at Customer Review.