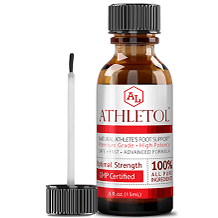 We reviewed Athletol Natural Athlete's Foot Support Remedy and determined its effectiveness. This product is a safe and fast acting treatment for athlete's foot and also offers antibacterial properties to help prevent a relapse of this infection. To learn more about this product, continue reading our detailed review.
Ingredients
The ingredients used in developing this athlete's foot product were all clinically proven to be effective in eliminating not only fungal infections but also help in strengthening the immunity of the skin to prevent future infections. Each 15ml bottle holds an ointment that is infused with the following ingredients:
Undecylenic Acid (25% USP) – this is a strong anti-fungal compound and is a primary ingredient in treating fungal infections, such as athlete's foot.
Tea Tree Oil – it contains antiseptic properties and is also known to offer soothing relief.
Aloe Barbadensis – a popular herbal remedy that speeds up the healing process of wounds.
Juglans Nigra – this is a powerful astringent used to treat skin conditions.
Tocopheryl Acetate – a type of Vitamin E that helps keep skin hydrated.
Menthol – an anti-inflammatory agent that also offers soothing relief of skin irritations.
Camphor – this compound is primarily used to help stop skin irritations, such as itching.
Propolis – this compound is naturally produced by bees and is known to help speed up healing and contains a decent amount of anti-inflammatory properties.
Eugenia Caryophyllus – this compound is one of the most popularly used analgesics, which acts as both anesthetic and antiseptic ingredient.
Lavender Oil – contains a good amount of antibiotic properties.
Manuka Oil – a good source of triketones which are anti-fungal agents.
Essential Oil Blend – contains a mixture of anti-fungal properties which help speed up the skin's absorption for a faster healing process.
Dosage
Clean the affected area with warm water and antibacterial soap and dry it off completely. Once properly cleaned, you can use the applicator brush that is included with this product to apply a thin layer of the ointment over the area. Do this two to four times per day or as instructed by your doctor. Be sure to apply the ointment between the toes as well.
Wear snug and well fitting socks and shoes and always wear a clean pair of socks every day. If you feel a stinging sensation after applying the medication discontinue use at once and consult with your doctor.
Possible Side Effects
This product includes ingredients that are known for their soothing properties which lessen the risk of side effects. However, if by chance you feel a burning sensation after applying the ointment then stop the use of this product immediately and contact your doctor to know what to do next.
Price
One 15ml bottle of Athletol is priced at $49.95. The official website offers this medication at a discounted price as well if you choose the monthly supply package options that they offer. The Starter Package (two bottles) is priced at $69.90, Intermediate Package (four bottles) comes at $111.80, and the Best Value Package (six bottles) can be purchased for $139.80.
Depending on the severity of the fungal infection it will usually take a month for an ordinary case to be treated but can sometimes take longer for more serious infections. The composition of the medication also makes it a great preventive treatment to eliminate the risk of re-infection in the future.
Guarantee
Athletol comes with a 60 day money back guarantee. If the product does not meet your expectations then you can call their customer support and inform them that you wish to return the item. You can return used bottles as well, as long as it is within the 60 day guarantee period. This guarantee is a great addition to an already effective and high quality product, as it is a great safety net for first time users.
Conclusion – Athletol Review
Athletol is an effective and fast acting anti-fungal medication. The treatment will usually last for about a month of daily use. The option to choose monthly supply packages will also ensure that you will have more than enough ointment to not only treat your fungal infection but also have a few extra drops for preventive measures.
Top investigative research brought to you by the experts at Customer Review.