Research Verified Body and Breath Natural Deodorant Review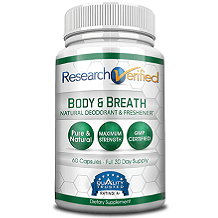 Greetings and welcome to our in-depth review of the Research Verified Body and Breath Natural Deodorant and Freshener. This product helps ward off bad odors of the body such as bad breath and unpleasant body odors. Research Verified is known for their quality products and manufacturing process. You can learn more about Research Verified and how they formulate their products through their website or reviews. If you are interested in this particular product, please take a look at our detailed review to learn more.
Ingredients
This product uses ingredients that are not only known for helping cleanse the body by balancing good and bad bacteria within the digestive tract, it is also known for its immunity boosting properties. It holds a number of all natural ingredients which include:
Lactobacillus Acidophilus – this compound naturally produces acid, which helps keep bacteria in the digestive tract in check and prevents ailments from developing.
Chlorophyllin-copper Complex – this is a water soluble compound that offers a deodorizing effect in the body to help eliminate bad breath and unpleasant body odor.
Green Tea Extract – filled with antioxidants which helps cleanse the body of toxins.
Magnolia Bark Extract – this is a compound mostly used as an anti-stress and anti-anxiety agent.
Peppermint Oil – it has high antimicrobial properties which can help treat bad breath.
Fennel Seed – this ingredient helps improve digestive health and promote daily bowel movements.
Dosage
To get the full benefits of this dietary supplement, you should take three capsules per day. Take one in the morning, another during lunch and the last one before dinner. You should also drink 8 ounces of water with each capsule. Please keep in mind that you should always follow the recommended dosage. Pregnant women, people who have a medical condition or are under any type of medication should first talk to their doctor before taking this supplement to prevent any negative side effects that may occur.
Possible Side Effects
The ingredients contained in each capsule are all relatively safe to digest. It should be kept in mind though that its active ingredients, Lactobacillus Acidophilus, can cause negative effects for people who have short bowel syndrome. In this regard, it is advisable to consult with a health professional first before using this product to ensure your safety.
Price
One bottle of Research Verified Body and Breath contains about 60 capsules that are enough for a month's supply. A bottle will cost about $48 but the official website does offer you a couple of discount options to choose from if you wish to use this supplement continuously. They offer a three month supply and a six month supply package with discounts per bottle. The three month supply drops the price to $33 per bottle while the six month supply further pushes it down to $24 each.
Guarantee
The biggest draw of this product is its One Year Money Back Guarantee policy. If Research Verified Body and Breath is not at all effective or it does not meet your satisfaction, you can return it and get a full refund with the exclusion of the delivery charges. You can also return opened bottles as well and the one year period is more than enough to find out if this supplement is in fact effective.
Conclusion – Research Verified Body and Breath Natural Deodorant Review
All in all, Research Verified Body and Breath is a great remedy for those who are suffering from bad breath and bad body odor. It not only helps cleanse your body and eliminate unpleasant odors, it also helps to boost your digestive system. The supply package options offered by the manufacturer are also great deals for those looking to turn this product into their daily supplement.
Top investigative research brought to you by the experts at Customer Review.