HC Max Hongo Cura Anti-Fungal Review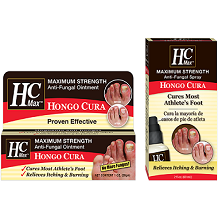 This review is for a product called Hongo Cura Anti-fungal from HC Max. The maker's of this product claim to offer a treatment for the uncomfortable symptoms that are often associated with a fungal infection that causes athlete's foot. These symptoms include burning, itching, redness, and swelling of the toes and feet.
Ingredients
Zinc undecenoate 20%
Methylparaben
Propylparaben
White Petroleum
At first, this seemed like an excellent formulation of ingredients. However, further research seems to indicate that there are a few issues with the formula. Products that treat fungal infections should contain a concentration of at least 25%.
Dosage
The manufacturer of this product recommends that you wash your feet with soap and water then dry the affected areas carefully before using this cream on the affected area. For optimal results, apply the cream to your feet twice daily for four weeks. Pay special attention to the skin between your toes.
Possible Side Effects
If pregnant or nursing consult your physician before using. If adverse effects occur or if no improvement is seen after 4 weeks' of use, consult your physician.
Price
You cannot purchase this product directly from the manufacturer, but we were able to find this product on Amazon for $14.99. This gets you a 1oz tube of cream. There are no bulk purchase discounts or new customer incentives offered by the manufacturer.
Guarantee
The manufacturer of this product does not offer any guarantees or return policies for this product.
Conclusion of Our Hongo Cura Anti-fungal Review
In concluding our review of this product, we found several positive aspects. This cream contains some key ingredients that have been proven effective in treating athlete's foot. The instructions and warning are clearly explained on the product website. However, we do have some concerns about Hongo Cura. There is no assurance from the manufacturer that this cream is free from GMO ingredients, or that it is made in an FDA certified facility. We were also disappointed to see that the manufacturer does not offer any guarantee or a return policy so if you buy this product you are taking a risk. At $14.99 for a 1oz tube of cream, this is a costly product to buy and made more expensive because there are no bulk purchase discounts or new customer incentives offered by the manufacturer. Finally, we were rather concerned about the lack of customer reviews available for this product. When we checked, there were only 13 reviews on Amazon. For all these aforementioned reasons we are recommending that you look for an alternative product and skip this one. We suggest that you seek out an athlete's foot product that comes with a solid guarantee and return policy with a wide body of positive reviews and one that is priced well with some good value bulk buying discounts.
Top investigative research brought to you by the experts at Customer Review.