The Herbal Forest CoQ10 Review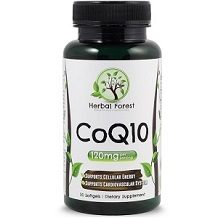 Today we review The Herbal Forest CoQ10. This important antioxidant will help to keep your heart healthy and keep you more energized. Delivered in a soft-gel for faster absorption, this supplement is more bioavailable than other products.
Ingredients
Each softgel contains 120 mg of CoQ10. Clinical studies have shown that the optimal dose for this nutrient is 250 mg per day, which this supplement does not provide. These softgels also do not include BioPerine, which increases your body's ability to breakdown and absorb this nutrient properly.
Dosage
One capsule should be taken daily with a meal. While this is an easy, once per day formula, this dose does not provide you with the amount of CoQ10 your body needs to truly help your cardiovascular system.
Possible Side Effects
If you are pregnant, nursing, or under the age of 18, you should consult with a physician before beginning this product. Also, if you have a pre-existing medical condition or are taking other prescription drugs, speak with your doctor to see if this supplement could have any adverse reactions with those medications. Lastly, this supplement is manufactured in the same facility that processes milk, soy, wheat, egg, peanuts, and shellfish. If you have an allergy to any of the above listed, then you could have an allergic episode if you take this supplement.
Price
One bottle of 30 softgels is listed for $14.75. There was not information available about possible discounts or even free shipping. While this price is about average for a month long supply of this type of supplement, we usually will see some type of discount to help entice the buyer to make a purchase.
Guarantee
This manufacturer lists no information regarding a product guarantee or a return policy. Without this information, it seems the company does not truly stand behind their products. While they do provide a contact form to fill out, there are no phone numbers or email addresses listed to try and make a direct contact with a customer service representative.
Conclusion of Our The Herbal Forest CoQ10 Review
There are a few things we liked about The Herbal Forest CoQ10. This formula comes in an easy, once per day formula. Also, the price of this supplement is average, when compared to its competitors.
Unfortunately, we had many concerns in regards to this product. The amount of CoQ10 per softgel is less than half of the clinically recommended dose. With only taking one capsule per day, you will not get the amount of this nutrient that you need to truly help your heart. Secondly, this supplement is manufactured in a factory that also processes many of the most common food allergens, which means these capsules could be contaminated. Additionally, while the price is not overly expensive, there is no free shipping or additional discounts. Lastly, the manufacturer does not offer a guarantee or refund policy. If you find yourself unhappy with this product, you have no chance to receive your money back. For these reasons, we cannot recommend this supplement to help you keep your heart healthy.
Top investigative research brought to you by the experts at Customer Review.