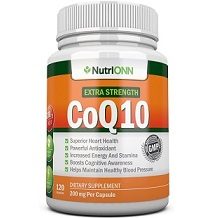 NutriOnn claims that their CoQ10 can benefit many aspects of your health. Among these benefits are its ability to prevent heart failure and improve general cardiovascular health, lower high blood pressure, prevent muscular dystrophy and periodontal disease. This supplement acts as an antioxidant that protects your body from damage caused by harmful molecules. CoQ10 is touted as a supplement that can also boost energy, and reduce the effects certain medicines can have on the heart, muscles, and other organs. CoQ10 can also slow the normal signs of aging, and help fight against fatigue. Some prescription drugs like statins can lower CoQ10 levels in the body therefore NutriOnn and other companies like it often recommend that statin subscribers also take a CoQ10 supplement to replace the depleted CoQ10. The following review is for NutriONN CoQ10, a dietary supplement that is intended to assist those with CoQ10 deficiency in their bodies.
Ingredients
The primary ingredient in this supplement is Coenzyme Q10 (ubiquinone). The amount of CoQ10 in each capsule is 200mg. The only other ingredients in the capsule are found in the capsule casing itself.
Other ingredients:  Gelatin Capsule, Magnesium Stearate and Rice Flour. The website does not say that this supplement is vegetarian therefore we must assume that the gelatin is of animal origins and therefore not suitable for vegetarians.

Dosage
Take 1 capsule daily, with fatty food for best absorption. It is not indicated what type of fat and how much it should be. This vagueness is not helpful to consumers and can cause users to over indulge in fatty food mistakenly.
Possible Side Effects
No details of side effects were mentioned on the website but the label recommends that you consult with a medical professional before beginning a new treatment especially if pregnant, nursing, under 18 years of age or taking medicine for an existing condition.
Price
NutriONN CoQ10 costs $35.95 per 120 pill bottle on the manufacturer's website. If you subscribe to the company newsletter you can get 10% off the price. Shipping is free if you spend $35 or more. Other than the 10% off for newsletter subscribers, the manufacturer website did not offer additional discounts to new customers or bulk buyers.
Guarantee
NutriONN supplements are manufactured the U.S.A in a GMP-compliant facility and the labs are FDA-inspected. The CoQ10 200mg Double Strength supplement comes with 100% money back guarantee. the company website states that returns are allowed if requested within 14 calendar days from the delivery date. Details and policy limitations were not mentioned on the website.
Conclusion of Our NutriONN CoQ10 Review
On the plus side, the product has zero binders, filler, and artificial ingredients, but it contains animal gelatin and therefore not suitable for vegetarians. Since the recommended dose is 1 capsule per day, one 120 bottle of capsules will last 4 months which s pretty good value for money at $35 per bottle.  The product is FDA-registered facility that is GMP certified and comes with a 100 % money back guarantee. We feel that 14 days is woefully lacking in time to let the consumer know if this is a supplement that is useful or not. The manufacturer's claims try to exhibit a promise of success and confidence in the product, but we are not sure if that is the case because the guarantee period is so short. We were not too impressed to see the following inaccuracy on the website; "200 mg Per Capsule, 120 Premium High Absorption Capsules Per Bottle. Twice the number of milligrams and value per bottle than any brand." We feel this is misleading and inaccurate. There are plenty of brands that offer 200 mg doses of CoQ10 and some offering even larger doses. The instructions on the label recommend you to take the supplement with a fatty food but don't specify what type of food this is nor what time of day to best take the supplement. This is critical information to the consumer that is lacking.
Top investigative research brought to you by the experts at Customer Review.