Blue Lily Organics Pure Yacon Syrup Review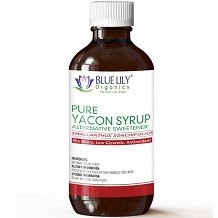 The following review is for a product called Pure Yacon Syrup. It claims to be an excellent alternative sweetener as it apparently only has half the calories that sugar normally would and also has the benefits of having a low glycemic index.
As it is a prebiotic, it also claims to promote healthy bacteria in your gut. It is rich in antioxidants, is 100% vegan as well a s 100% organic, is non-GMO, contains no chemical pesticides, artificial additives or preservatives.
Ingredients
The only ingredient inside this product is pure yacon syrup. It is extracted from the tuberous roots of the Yacon plants that grow in the mountainous region of the Peruvian Andes. It  only contains 40 calories per serving. It contains absolutely 0% total fat and that includes saturated and trans fat. It has a sodium content of 25 mg (1%). The total carbohydrate value is 22g (7%). The dietary fiber value is 0g and sugars is 14g. It carries 0% protein and 2% Iron.
Dosage
The serving size is 2 tbsp.  It does not state how many servings you should take per day. There is 237 ml in the bottle.
Possible Side Effects
Research has found that if you consume too much yacon syrup at a time, the side effects are very similar to the side effects you experience when you eat more soluble fiber than you are used to. When a lot of it reaches the intestine, it can cause too much gas production. This can then lead to nausea, flatulence, diarrhea as well as digestive discomfort.
Price
The price of 1 bottle is $15.75 and the flat rate for shipping is $9.95 totaling $25.70 which we find to be a bit pricey. It can be purchased online.
What's nice is the fact that you can check the status of your order at any time by logging into your Blue Lily Organics LLC account. You do this by checking out your 'Order History' option at the top of their site once you have logged in. Alternatively, you can also refer to the email confirmation that will contain your tracking number.
Blue Lily Organics does explain that organic products are generally more expensive as most of the conventional spices and herbs are not tested for pathogens, chemical pesticides and do not meet the high-quality standard of organic spices. Things adding to the additional cost are quality assurance, product tracking, organic certifications (state & federal), usage of bio dynamic environment, bio manure & compost and environmentally sustainable farming techniques.  
Guarantee
With regards to guarantee all the product states is that if you are unhappy, for any reason, with the product you receive, you can return it for a full refund or credit. It does not go into detail whether or not you can return products already opened so you may need to contact the manufacturer should you be interested in the product.
Conclusion Of Our Blue Lily Organics Pure Yacon Syrup  Review
We find that the transparency of this product with regards to price is appealing. The only thing that really concerned us was the fact that we could not find the correct daily dosage. Also the guarantee is left very ambiguous.
Top investigative research brought to you by the experts at Customer Review.