Swanson Organic 100% Certified Organic Yacon Syrup Review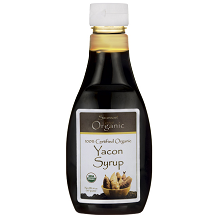 Read Our review below about Swanson Organic 100% Certified Organic Yacon Syrup. This product is a low-calorie sweetener that claims to be great for healthy weight management. It claims to satisfy your sweet tooth without compromising your weight goals and is used as a substitute for honey, maple syrup as well as molasses.
They claim that this product is great for shedding unwanted pounds because of the low calories found inside as well as the remarkably low glycemic index
Ingredients
100% pure certified organic yacon root (Smallanthus sonchifolius) syrup. It  is derived exclusively from organically grown Peruvian yacon root through an extraction process without the use of chemical solvents. It is 100% pure with no additives, preservatives or artificial ingredients of any kind. It contains 5 calories per serving. It has 0% fat, 0% sodium, 1% total carbohydrates and 1g sugar per serving.
Dosage
The serving size is 1 teaspoon (7g). There are approximately 60 servings per container. You can take 1 teaspoon as desired and may it be used in place of honey, molasses and other sweeteners.
The majority of yacon syrup's sweetness comes from fructooligosaccharides (FOS), a type of sugar molecule that stimulates the taste buds much like ordinary table sugar, but passes through the digestive tract unmetabolized, and this, in turn, reduces the caloric value. FOS serves as a source of nourishment for the beneficial probiotic bacteria that are found in the lower GI tract.
Possible Side Effects
If your intake of yacon syrup is too excessive all at once, the side effects are very similar to the side effects you experience when you eat more soluble fiber than you are used to. When all of it reaches the intestine, it may cause a lot of gas production. This can eventually lead to nausea, flatulence, diarrhea as well as digestive discomfort.
Price
The price of the bottle is $21.99, which can be purchased online. The company states that you save 45% with this offer. It also offers 10% off leaving you with the price of $19.79.It also gives you the option of receiving 10% off and free shipping orders over $50 on your next automatic shipment of this item. In essence if you choose this option it automatically bills you and sends you the product each month. You have to be careful with this option as it is not always so easy to cancel this.
Guarantee
The product states that their lab evaluates every product to make sure it's compliant with strict standards and government regulations, and that they fully believe in and stand behind their products. They state that if you're dissatisfied for any reason, they'll give you a full refund and pay return shipping.
Conclusion Of Our Swanson Organic 100% Certified Organic Yacon Syrup
This product is very transparent in what it has to offer the public and the price seems fair. The only con we found was that it is very easy to get signed up to automatic billing with this product so you really need to make sure that this is the option you want to go for should you choose to.
Top investigative research brought to you by the experts at Customer Review.