Puritan's Pride Chewable Chlorophyll Review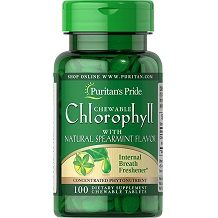 Read our review about Puritan's Pride Chewable Chlorophyll. This product claims to prevent or stop bad odors caused by food such as onions and garlic, indigestion, dentures, alcohol and smoking. It is specifically designed as a breath freshener.
Ingredients
The only ingredient in this particular product is chlorophyll of which there is only 3mg. It also contains sorbitol, sucrose, glycine, natural spearmint flavor , silica and vegetable stearic acid.
The product states that the chlorophyll and mint make effective breath fresheners. There are no artificial colors or flavors, no preservatives, no milk or lactose, no soy, gluten, wheat, yeast or fish. The tablets are vegetarian.
Dosage
For adults, the suggested use is to chew 1 tablet or allow the tablet to dissolve slowly in the mouth and then swallow. They can be taken as often as desired. There are 100 chewable tablets per bottle. The pill size is 1 inch by 1 inch.
Possible Side Effects
You need to consult with your doctor if you are pregnant, breastfeeding, taking any medications or have a medical condition of any kind. There are certain possible side effects that may occur due to chlorophyll such as nausea or vomiting. You may also develop a rash from the sun.
Price
You can purchase 1 bottle online for $6.99 and you will receive 2 for free. If you buy 2 for $13.98 you will receive 4 for free. We feel that this is very good value for money. You also receive a free gift of Vitamin D which is great. Shipping costs $3.95 no matter what the quantity within the United States. Orders over $49 qualify for free standard shipping. Free shipping does not apply on international orders. DHL international is relied on with regards to international shipping so that the product/s may reach you in a speedily fashion. You can edit or change your order up to 20 minutes after it has been placed.
Guarantee
Puritan's Pride are proud of the quality of their products and therefore offer a good guarantee. There is a full one year guarantee on this product from purchase date. The product can be returned even if it has been opened.
Conclusion Of Our Puritan's Pride Chewable Chlorophyll Review
Puritan's Pride Chewable Chlorophyll is well priced and has a good guarantee. We are concerned with the certain side effects that this product may bring you. You should be especially cautious if you naturally suffer with nausea frequently and if your gut is very sensitive. As mentioned before, consult with your doctor beforehand. Also this product only offers to be useful as a breath freshener and not an overall treatment for malodors which many other products offer.
Top investigative research brought to you by the experts at Customer Review.