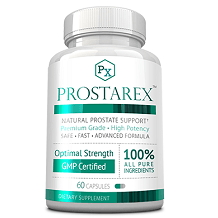 Prostarex is one of the best prostate supplements we have reviewed, because it is of high quality and exceptional value. It is 100% natural and formulated with top prostate supporting herbs, vitamins and minerals. The quality of the product is supported by the careful selection of the ingredients by medical professionals in a credible environment (very important). The numerous benefits include healthy prostate gland and bladder, improved sexual health and healthy hormone regulation to prevent prostate problems.
Ingredients
The purity of the ingredients in this product sets it apart from its competitors as it is free of preservatives, additives, fillers and binders. Each capsule contains:
Saw Palmetto– this herb contains anti-androgenic and other properties which boost prostate health.
Muira Puama Root- a traditional remedy for treating erectile dysfunction.
Beta Sitosterol- reduces BPH & promotes urinary health.
Pygeum Bark– Reduces inflammation and decreases testosterone levels.
Epimedium-This is an ancient medicine used for treating male sexual dysfunction.
Nettle Leaves– This acts as a diuretic, and relieves BPH associated fatigue.
Amino Acids (Alanine, L-Glutamic Acid & L-Glycine)- These are effective for treating BPH.
Vitamin Formula (B6, D & E)- This supports prostate health and prevent cancer cell development.
Zinc- aids in prostate cancer prevention.
Selenium- decreases the risk of prostate cancer development.
Soy Isoflavones– reduces prostate cancer risks.
Lycopene- this provides anti-oxidant benefits and may provide overall prostate health support.
Quercetin-this is effective for reducing inflamed prostates due to its potent anti-oxidant, anti-tumor and anti-inflammatory properties.
Green Tea– provides overall support to prevent prostate cancer.
Dosage
Adults are directed to take two capsules daily, one in the morning and one in the evening for optimal results.
Price
Each bottle contains sixty (60) capsules and is currently priced at $49.95. Discounted packages are provided by the manufacturer for persons with severe conditions. Their "Best Value Package (buy three, get three free) priced at $139.80 is recommended for persons wanting maximum results. Other packages include the "Intermediate package" (buy two, get two free) priced at $111.80 and the "Starter Package" (buy two bottles) is priced at $69.90.
Guarantee
Prostarex comes with a 100% money back guarantee plan for customers' protection. If you are dissatisfied for any reason, bottles can be returned, used and unused, at any time within a 60 day period of purchase for a full refund.
If that is not enough to convince you of the manufacturer's confidence in the product, you can check out what your peers say in a wide range of customer reviews. These individuals are from different background with different lifestyles and most (if not all) have testified to the positive results they have experienced.
Conclusion – Prostarex Review
Overall, Prostarex is a great product for supporting prostate health. It is 100% natural, and good for optimizing overall health. The level of research and testing as well as the criteria for selection of the ingredients shows that the manufacturer is committed to quality; and the fact that the production takes place in the US, in a cGMP certified and FDA approved facility is another important guarantee to you.
Top investigative research brought to you by the experts at Customer Review.