BioGanix Yacon Root Syrup Extract Review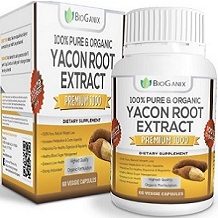 Yacon syrup is the latest craze to join the world of weight loss after it was dubbed a "metabolism game changer" on a popular American TV show.  It is believed to have many benefits like aiding in losing weight, improving lipid metabolism and curbing appetite, offers prebiotic and probiotic support for healthy digestion and regularity, maintains healthy blood sugar levels, supports liver health and is rich in antioxidants. This review is going to take a closer look at BioGanix Yacon Root Syrup Extract. BioGanix claims that their Yacon Root Syrup Extract is superior to their competitors because it is 100% natural, comes in convenient Yacon Syrup Extract capsules, is non-GMO, has no caffeine, is gluten-free, has no stimulants and is third-party tested and verified for purity and safety. They claim that their Premium Yacon Syrup formula is high in fructooligosaccharides (FOS) which are believed to help suppress your appetite and boost your metabolism. 
Ingredients
The only active ingredient in this supplement is Yacon Root. Yacon is found mainly in South America. The juices from the root are extracted then filtered and evaporated in a manufacturing process that is similar to the way maple syrup is made. The fructooligosaccharides in Yacon syrup reach the large intestine where they provide friendly bacteria to the digestive system. When the bacteria digest the fructooligosaccharides, they also produce short chain fatty acids that have anti-obesity effects and there is some evidence that fructooligosaccharides can lower the hunger hormone, ghrelin, resulting in a reduced appetite.
Dosage
BioGanix recommends adults taking 1-2 capsules daily or as directed by your doctor.
Possible Side Effects
BioGanix Yacon Root Syrup Extract does not list any potential side effects. In our research, we found consuming excess Yacon can cause mild side effects like flatulence, diarrhea, and nausea.
BioGanix recommends consulting with your doctor if you are pregnant, breastfeeding, taking prescription medications, have brain conditions or are diabetic before consuming this product.
Price
BioGanix lists one 60 capsule bottle of Yacon Root Syrup Extract for $19.97. There are no bulk purchasing packages or prices.
Guarantee
BioGanix offers a one-year money back guarantee on all of their products purchased through their website on opened or unopened products.
Conclusion of Our BioGanix Yacon Root Syrup Extract Review
BioGanix offers a decent money-back guarantee. This brand also comes 100% natural. However, BioGanix's website is confusing and hard to navigate. A Yacon Syrup novice would not be able to fully understand what this product is offering and what this product has to offer above competitors that have higher concentration capsules and are available for more reasonable pricing. Committing to losing weight and living a healthier lifestyle  is a big commitment and when in the market for a supplement that can offer a boost to make diet easier, the consumer wants to have as much information as possible to be able to make the right decision about which brand of Yacon Root Syrup Extract is right for them. With the limited information available, we would not feel confident choosing this product as one that will really help us achieve our weight loss goals.
Top investigative research brought to you by the experts at Customer Review.