Cerebral Success SmartX Review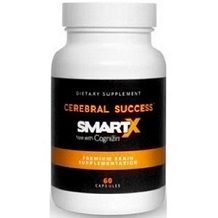 The following is our product review for a product called Cerebral Success SmartX. The maker's of this supplement claim that it can increase your ability to focus, improve your memory, reduce mental fatigue, and reduce anxiety and stress.
Ingredients
Phosphatidylserine
Bacopin
Schisandrin A
L-Tyrosine
Cognizin (Citicoline)
Glucuronolactone
DHA
Caffeine
L-Theanine
L-Glutamine
Vitamin B – B3, B6, B9 and B12
Vinpocetine is derived from the periwinkle plant and is used to increase blood flow to the brain. Phosphatidylserine, a phospholipid and amino acid provides the building blocks for healthy cell membranes. Bacopin improves memory and learning ability. Schisandrin A provides mental edge. L-Tyrosine is a precursor to dopamine. It is said to decrease mental and physical fatigue. Cognizin (Citicoline) enhances communication between brain neurons and boosts memory and attention. Glucuronolactone, which in combination with other ingredients like caffeine and taurine, has a positive effect on mental performance and mood. DHA helps to maintain cognitive functions. Caffeine has been shown to improve focus, concentration and general brain function. L-Theanine helps to reduce stress. L-Glutamine is an amino acid that boosts learning and memory. Vitamin B plays an important role in cell metabolism in the brain.
Other ingredients:
The gelatin capsules contain beef and are not considered vegetarian.
Dosage
Take 1 capsule daily and gradually increase this to 2 capsules. You can take up to 4 capsules in a single day. Do not take more than 16 capsules per week. Cerebral Success recommends that you give yourself a break from taking the capsules every now and again. You can take the capsules at any time of the day – in the morning if you want a brain boost to start the day; in the early afternoon to help you shrug off post-lunch lethargy; before tests, or presentations or any activity that requires you to be mentally sharp. They do not specify if you should take with food and water.
Possible Side Effects
Consult a physician before use. This supplement can possibly induce or strengthen headaches. In very rare events, may cause nausea, jitters, appetite suppression, depression (although anti-depression is common as well). Do not take if pregnant or nursing.
Price
You can purchase Cerebral Success SmartX directly from the manufacturer's website where a 60 capsule bottle costs $65. Bulk discounts are offered. If you buy 2 bottles you save $15 ($115). If you buy 3 bottles, you save $45 (cost is $150). Shipping is free when you purchase 2 or more bottles.
Guarantee
Cerebral Success offers a 100% money back guarantee provided you claim your refund within 30 days. It does not mention what their policy is for opened bottles of capsules.
Conclusion of Our Cerebral Success SmartX Review
We liked several things about Cerebral Success SmartX. The company website is very informative about the ingredients, and treatment benefits of this product. The product contains some research proven ingredients that are likely to provide some benefit to your cognitive processing, attention and focus. There is a 30 day guarantee and return policy, and discounts when you buy 2 or more bottles of capsules, and free shipping for 2 or more bottles ordered. We do have some not so positive comments to add however. Pricewise, a single bottle which provides only one month's supply of capsules costs $65 and does not even include shipping. The guarantee is too short at only 30 days and does not seem to allow the return of opened bottles of capsules. The capsules contain beef gelatin and are not suitable if you are vegetarian or vegan. Since it contains gelatin, this supplement is unsuitable for vegetarians and vegans. We suggest you look for a better priced supplement, with a longer guarantee, that clearly allows the return of opened bottles of capsules.
Top investigative research brought to you by the experts at Customer Review.