McCleary Scientific Lucidal Review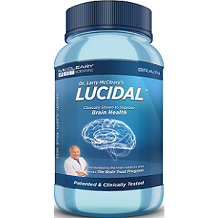 It's not just aging that can cause our minds to lose some of its sharpness. Exhaustion, stress, parenting and other factors can be contributing factors as to why your mind is loosing its extra kick. This McCleary Scientific Lucidal review is going to take a closer look at the facts and details to see if this brain booster is worth trying out. The manufacturer claims that their supplement sharpens mental focus, attention and concentration, enhances thinking speed and clarity, improves mood, reduces anxiety and depression and will increase mental energy and alertness.
Ingredients
The manufacturer does not have the label information or any of the ingredients listed on their website. The manufacturer boasts on their website that their product contains more than 50 ingredients and in their FAQ they say that part of their supplement acts as a multivitamin so it can be assumed that it does contain a variety of vitamins. In their FAQ they say that their Lucidal provides extra energy and without the addition of any stimulants.
Without knowing the ingredients or amounts, there is no way to determine if this product contains the right formula for it to be effective.
Dosage
Because the manufacturer does not have the label information online, we do not know for certain what the dosage recommendation is. They say that in the human clinical trial subjects took three capsules in the morning with a meal. It can also be taken three times a day or two pulls at one time and one at another. They also say that Lucidal is best taken an hour before a mentally taxing event or when maximal effect is desired.
Possible Side Effects
We were unable to find any side effects associated with this product.
Price
We found that you can exclusively purchase Lucidal directly from the manufacturer. One 90-capsule bottle costs $74.99. They do not offer any discounted bulk purchasing packages. Considering that one bottle will last you only a month, the costs can add.
Guarantee
McCleary Scientific offers thirty days to get a refund but only for new and unopened products that are in their original packaging.
Conclusion of Our McCleary Scientific Lucidal Review
McCleary Scientific Lucidal appears to be a promising brain booster. It contains a variety of vitamins and other ingredients and it is backed by a manufacturer's guarantee which is always reassuring when looking into a product. However, while the manufacturer does offer a money back guarantee, their policy is weak. They only offer thirty days to get a refund which is not enough time to be able to determine if a product is right for you. Their policy also only applies to unopened products which means that if you purchase, Lucidal, try it and are dissatisfied, you cannot get your money back. Considering the expensive price per bottles, which is a strong deterrent, you have a lot to lose. Furthermore, it is discouraging to see that the manufacturer does not offer any information about the ingredients or other necessary product information. There is no way to know if you're getting what you're paying for with this product. Choosing Lucidal is risky. You are better off choosing a brain booster that is backed by a strong manufacturer's guarantee for consumer protection and one that is forthcoming about all necessary product information.
Top investigative research brought to you by the experts at Customer Review.