Thera Botanics Cebria Review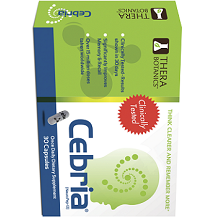 This Thera Botanics Cebria review is going to take a closer look at the facts and information to learn more about how this brain boosting supplement works and to see if it's worth trying out. Whether for a school exam, work deadline or just for the extra edge, every person can find themselves needing an extra brain boost. The manufacturer claims that Cebria will help you think faster, remember more, improve short-term memory and help you get back the mental snap you're missing.
Ingredients
Neuro Pep 12 Proprietary Blend:
Lactose
Glutamic acid
Leucine
Arginine
Aspartic acid
Serine
Phenylalanine
Threonine
Tyrosine
Isoleucine
Histidine
Methionine
Tryptophan
Other Ingredients: Gelatine, Organic Rice Concentrate, Magnesium Stearate, Silicon Dioxide, Titanium Dioxide, FD&C red #40, FD&C Blue #1 and FD&C Yellow #5.
Lactose is a sugar that is essential for the production of galactolipids which helps to support the development of a healthy brain and nerve tissues. Glutamic acid is a neurotransmitter that is involved in the synthesis of other neurotransmitters like GABA and therefore this amino acid is critical for healthy brain function.
Dosage
The manufacturer recommends taking one capsule daily.
You should talk to your doctor before taking this supplement if you are pregnant, nursing or under medical supervision.
Possible Side Effects
Although the manufacturer does not list any possible side effects we found side effects associated with Cebria to include headache, nausea, vomiting, stomach pain and flushing. Cebria does contain lactose so it should be avoided if you have an intolerance to dairy.
Price
You can purchase this supplement directly from the manufacturer and from third-party retailers. The manufacturer is not forthcoming about their product prices. They first offer you the option to sign up for a free trial. We were able to find one 30-capsule package online from a third-party retailer for $67.95. There are no discounted bulk purchasing packages offered but that can vary according to the retailer you purchase from.
Guarantee
The manufacturer offers a guarantee but the terms and conditions are unclear. They say that you can return an item in accordance with the return policy instruction that accompanies your product shipments but do not have the actual information on their website. If you are uncertain about your right to return they advise you to contact their customer service for assistance. If purchased from a third-party retailer they will only issue a receipt within 7-14 business days.
Conclusion of Our Thera Botanics Cebria Review
Thera Botanics Cebria appears to be a promising brain boosting supplement. It is made from a proprietary blend that contains a variety of natural ingredients and it comes in easy to take capsules for convenience. However, the price per bottle is significantly higher than most other brain boosting supplements we have seen on the market that offer equal, if not better benefits. Considering the expensive price per bottle, it is discouraging to see that the manufacturer does not offer any discounted bulk purchasing packages to make it financially easier to afford to continuously take this supplement. Furthermore, because the manufacturer incorporates their ingredients into a proprietary blend, there is no way to know what the actual amounts of each individual ingredients are and whether or not it is enough to be effective. With so many brain boosting supplements available on the market, you are better off choosing one that is reasonably priced, offers good discounted bulk purchasing packages and one that has effective ingredients.
Top investigative research brought to you by the experts at Customer Review.