Maxi Health Focus Max Two Review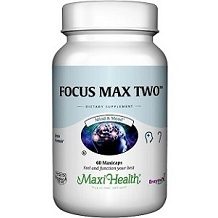 Today we review Maxi Health Focus Max Two. This supplement promotes healthier brain function, which will make you more alert and concentrated. By also protecting the brain tissue from damage, you will see extra protection from memory loss.
Ingredients
Vitamin B12
Phosphatidylserine
BioVinca Vinpocetine
While these ingredients do help your brain stay more concentrated and focused, there are a lot of important ingredients missing from this list. Nutrients like other B vitamins or Choline help not only to focus in the moment, but give a more long term effect to the supplement.
Dosage
Each capsule contains one serving of the nutrients. The recommended dosing is to take three servings per day, spread out with your meals. It is also suggested that you take another supplement from this manufacturer to see optimal results. Instead of putting all of these nutrients into one, easy to take supplement, they split the necessary ingredients into two different supplements, which makes the customer purchase more products to see the results they want.
Possible Side Effects
If you are pregnant or nursing, you should consult with your healthcare physician before starting this supplement. Additionally, if you suffer from any other medical conditions or are currently taking blood thinners, you also should speak with a doctor before adding a new supplement to your daily routine.
Price
This manufacturer does not have available for purchase directly through their website. Instead, they send customers to Amazon to buy their supplements. Each bottle comes with 60 capsules, which, if taken correctly, will not even last one month. Amazon lists one bottle for sale for $51.48 with free shipping. For a bottle that will only last 20 days, this is extremely expensive.
Guarantee
Like most manufacturers that do not sell their products, we found no manufacturer's guarantee or return policy on the company's website. By forcing customers to make their purchases through third party resellers, those other companies then become responsible for your returns, should you be unhappy with the product. Many of these other retailers do not accept open bottles, which means you are unable to trial this product and still be eligible for a refund.
Conclusion of Our Maxi Health Focus Max Two Review
There are a few things we liked about Maxi Health Focus Max Two. The ingredients used in this supplement are proven to help you focus and concentrate better. Also, the company clearly states warnings about who should pay more attention before beginning this product.
Unfortunately, we had many concerns with these capsules. First of all, while the ingredients are great, they are not enough to create a long term effect on your mental clarity. Instead, the manufacturer tries to sell you a second product that will help give you the results you truly want. Secondly, the price for this supplement is extremely high, especially when you take into account the amount of capsules per bottle. Lastly, because the manufacturer does not sell their products directly to the consumer, they offer no refund policy or money back guarantee. For these reasons, we cannot recommend this supplement to help you brain stay clear and focused throughout the day.
Top investigative research brought to you by the experts at Customer Review.