Research Verified Brain Booster Review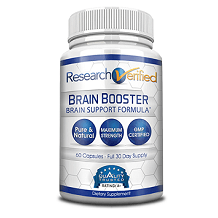 This is an assessment of Brain Booster supplement manufactured by the Research Verified Company. This product could possibly be the most superb brain-enhancing supplement we have researched and reviewed.  The company website informs consumers of what to look for when choosing a supplement, and make sure their product uses effective doses of key ingredients. Read reviews about Research Verified here if you wish to learn more about this manufacturer. This product includes all natural ingredients and an effective dose of caffeine with no side effects.  Keep reading to find out if this is the brain health supplement for you.
Ingredients
L-Tyrosine
L-Theanine
Vitamin B Complex
Choline Bitartrate
DMAE
Phosphatidylserine
Acetyl-L-Carnitine (ALCAR)
Guarana
Ginkgo Biloba
Dosage
The proposed dosage for this supplement is to consume one capsule twice a day.  Take your capsule with a meal and an 8 oz. glass of water.  The recorded key ingredients and their noted beneficial amounts in this product, secure you an effective dosage.
Possible Side Effects
There are no documented unfavorable side effects with taking this supplement.  However, it is recommended that anyone under the age of 18, and pregnant or nursing women consult a physician before taking this supplement. If you go through an allergic reaction to any of the products ingredients, discontinue use and contact your physician immediately.
Price
The listed retail price for this product is 69.95 for 60 capsules.  Though, the website is currently leading a sale, offering Brain Booster for only$48 each, which is a sizeable savings.  The company increases savings even further by offering discounts when you purchase multiple bottles at once.  Your maximum amount of savings occurs when you purchase six bottles at once making your final cost only $24 per bottle, which is a surprising 66% savings of the listed retail price.
Guarantee
The company proudly offers a no risk, 365-day money back guarantee, which clearly shows their certainty this product will work for you.  If at any time within 365 days of shipping date, you are unsatisfied, you may return any used, unused or empty bottles for a full refund minus shipping fees. Simply contact their customer service department with the number they provide you with and they will guide you through their easy return procedure.  The product website had a large number of reviews from fully satisfied customers, which again, to us just reinforces the quality and effectiveness of this product.
Conclusion – Research Verified Brain Booster Review
Overall, Brain Booster gives the impression of one of the best brain health supplements we have researched and reviewed.  The company certifies their product has an effective dose of key ingredients to pledge its effectiveness.  The use of these key all natural ingredients with no additives or preservatives places this product a step above other equivalent products on the market.  The unique combination of clinically researched ingredients is verified to intensify cognitive vivacity.  The exceptional customer reviews and mind easing money back guarantee make this product attractive to try.  Factor in their incredible prices and it makes it easy to decide if Brain Booster is the product for you.
Top investigative research brought to you by the experts at Customer Review.