Nature's Own Memory Boost Review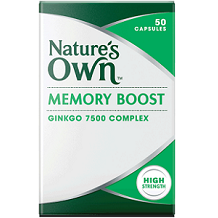 Today we review Nature's Own Memory Boost. Formulated for high potency, this supplement contains 7500 mg of ginkgo plus many other natural botanicals to help increase your brain's ability to remember things. By also supporting healthy blood circulation, these capsules provide more blood to not only your brain, but the rest of your body as well.
Ingredients
Ginkgo Biloba Extract
Korean Ginseng
Hawthorn Flower and Leaf
Lecithin
Glutamine
Tyrosine
This supplement boasts 7500 mg of ginkgo biloba per serving. Through our research, we know, that clinical studies prove that, depending on the type of extract used, the best dosing is anywhere from 60 mg to a maximum of 600 mg per day. There was no scientific evidence available to back such a high amount of this nutrient being in a supplement like this. While ginkgo biloba does help improve your mental clarity and brain function, this much in one table is a waste. On the positive side, this supplement is free of gluten, lactose, and sugar.
Dosage
The manufacturer recommends that you take one capsule every day with food. Again, with so much of the main ingredient in each capsule, it is such a waste to have so much of this nutrient when your body will not be able to use most of it.
Possible Side Effects
The only warning listed on the manufacturer's website is that this supplement contains beeswax. While not listed on the website, we know that ginkgo biloba has been known to cause mild stomach irritation and headaches or dizziness in some cases. With such an unusually high dose, the possibility for these side effects may be increased.
Price
Unfortunately, this manufacturer does not sell their products directly to the consumer. Instead, they offer 4 online retailers that have their products available for purchase. After checking all four sites, they all did carry Nature's Own products, but only one had Memory Boost as a listed product available for purchase. This retailer listed the box of 50 capsules as having a manufacturer's suggested retail price of $45.99, but currently had it on sale for only $35.99.
Guarantee
Like most companies that do not sell their products to consumers, this manufacturer does not have any type of refund policy or manufacturer's guarantee listed on their website. Without any information, if you find yourself unhappy with this product, you will need to check with the third party retailer you bought your product from to see if you are eligible for a refund. With only having one of the four available retailers with this product for sale, it leaves no choice at all to see who may have the best return policy.
Conclusion of Our Nature's Own Memory Boost Review
There are a few things we liked about Nature's Own Memory Boost. Each capsule is free from some of the most common food allergens, like gluten, dairy, and sugar. Also, the daily dose is one, easy to swallow capsule.
Unfortunately, the negatives far outweigh the positives of this product. First of all, the amount of ginkgo biloba in each capsule is extremely high, far higher than any scientific research deems necessary. Secondly, there are some unwanted side effects we know of that could be increased by taking such a high dose of this nutrient. Next, with only one true option for buying this product, you are stuck paying quite a high price for this supplement. Lastly, the manufacturer offers no guarantee or return policy for their products. For these reasons, we cannot recommend this supplement to help you boost your brain function.
Top investigative research brought to you by the experts at Customer Review.