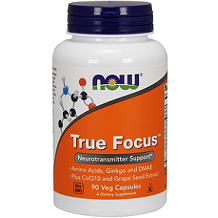 Today we review Now True Focus Veg Capsules. With specific amino acids and vitamins, this supplement will help you produce more norepinephrine and dopamine. These neurotransmitters are essential in helping you stay alert and keeping your mental focus clear.
Ingredients
Vitamin C
Vitamin B6
Potassium
L-Tyrosine
L-Phenylalanine
Grape Seed Extract
Potassium Ascorbate Powder
Dimethylaminoethanol Bitartrate
Ginkgo Extract
CoQ10
While many of these ingredients are proven to help your mental clarity, there are some ingredients we saw to be missing from this list. Many supplements have choline and St. John's Wort to help boost your brain. Additionally, most of these ingredients help mainly with a more immediate brain boost, instead of also helping with a long term effect.
Dosage
One serving size is listed as 2 capsules. Everyday, you should take one serving of this supplement between meals. With only being a short term supplement, it is confusing as to why you would take both daily capsules together instead of spreading out the doses throughout the day.
Possible Side Effects
This supplement is only for adults over the age of 18. If you are pregnant, nursing, taking other medications, or have a preexisting condition, you should speak with your doctor before starting this supplement. Lastly, as this contains L-Phenylalanine, phenylketonurics should avoid taking this product.
Price
Each bottle of this supplement contains 90 capsules, or 45 daily doses. One bottle costs $19.99. We were unable to find any possible discounts on this product, like an auto-shipment subscription program, or a discount for buying this item in bulk. The only possibility for a discount we were able to find is free shipping which is only available for purchases over $75, but still weighing less than 5 pounds.
Guarantee
Now does not offer a money back guarantee on its products. Instead, it lists a very strict return policy. If you made your purchase directly through the manufacturer's website, you can return any unopened bottles for a refund minus shipping and handling fees within 60 days of your purchase. While it is not specified exactly which, some orders will also have a 15% restocking fee assessed to the refunded money.
Conclusion of Our Now True Focus Veg Capsules Review
There are a few things we liked about Now True Focus Veg Capsules. These capsules do have many ingredients proven to help your brain stay sharp. Also, for 45 daily doses, this product is relatively less expensive when compared to other similar supplements.
Unfortunately, we found too many red flags regarding these capsules. First of all, the ingredients used help to boost your mental state only short term, instead of also helping with things like long term memory. Next, as this is a short term supplement, the dosing instructions seem odd since the two daily capsules should be taken together, instead of spreading them out throughout the day. Also, there are no available discounts at all for this product. Lastly, the manufacturer has no money back guarantee and is extremely strict in the products they allow to be returned. For these reasons, we cannot recommend this supplement to help you stay more alert and focused throughout the day.
Top investigative research brought to you by the experts at Customer Review.